Formula Student
Go faster, go smarter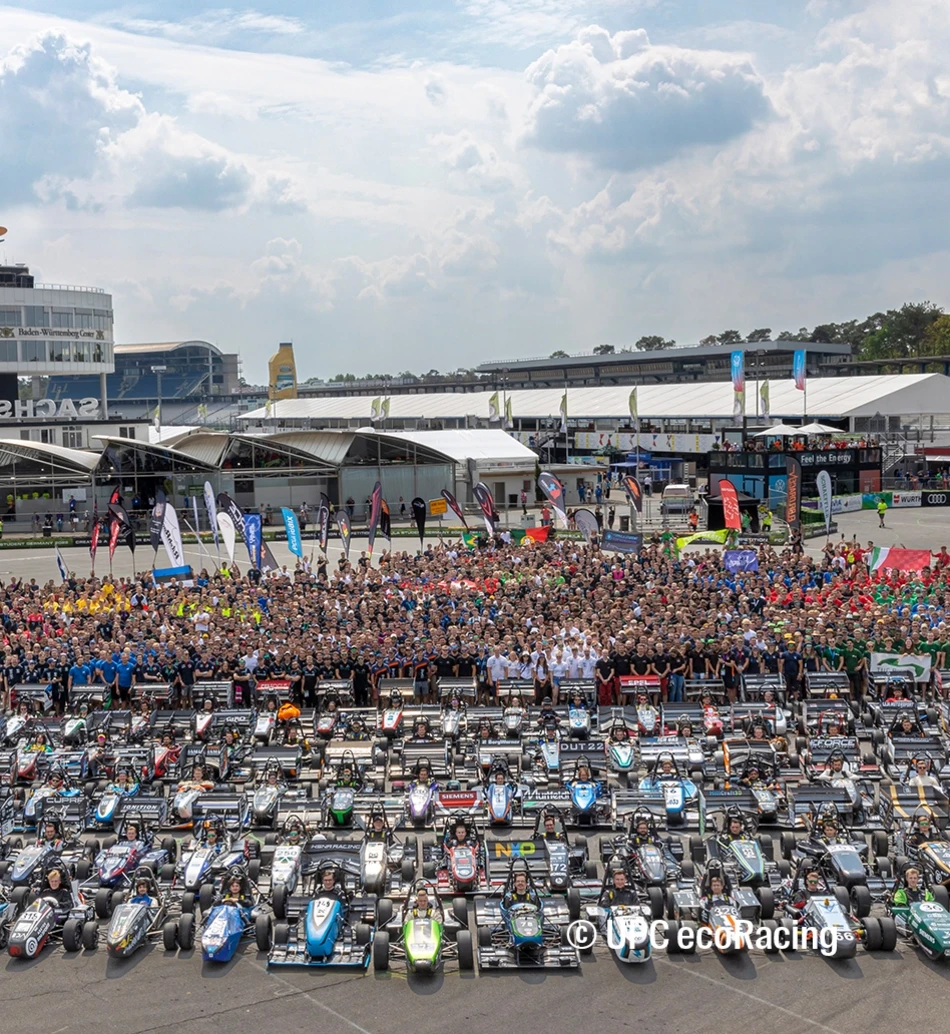 Across the globe, hundreds of young enthusiasts are busy adding the finishing touches to their impressive racing cars. They will compete this summer in the Formula Student, marking its 25th anniversary, and Formula SAE, the two most prestigious engineering student competitions in the world.
In a crowded office at the EPFL, the prestigious Swiss technical school, " Ariane " takes pride of place. Officially unveiled last May, this 3-m electric car, weighing 230 kilos, reminds of a crossover between a kart and a Formula One car. Students of the EPFL Racing Team are busying themselves around it, as they prepare for the first Formula Student competition of the year, taking place on 1st July in the Swiss Alps.
Meanwhile, in many locations around the globe, dozens of other teams (about twenty of them supported by LEMO, see page 28) are also getting ready. They too will compete this summer at Formula Student races (in Europe and Asia) and Formula SAE (in the USA), the two largest engineering student competitions in the world. It is rather frantic, since, every year, the rules evolve, which require the teams to create a new car design, and half of every team is renewed.
At the end of the day, vehicles look quite similar, but they are not equal at all. Savinien Semeria, president of the EPFL Racing Team, says laughing. " Some teams have existed for decades ; they take care of the smallest details for a few percentage points. Our team is young, we have much more than just details to work out ! "
In fact, the competitions require a large variety of competencies, all of them provided by the students. There is of course engineering (mechanic, electronic and materials engineering), project management, races (logistics, driving, maintenance) and even sponsoring and communications. So, every team is like a real enterprise – which is exactly the idea behind Formula Student.
Formula SAE (Society of Automotive Engineers) was created in the USA in 1981. Formula Student, its European version with slightly different rules, in 1998, followed by Formula SAE-A, in Asia-Oceania, in 2000.
Their objective : to offer a practical experience to future automotive industry aces. De facto, all components of the development of a vehicle must be upheld by students (design to requirements, tests, finances, communication, etc.). Every year, hundreds of teams from the best technical schools around the globe participate.
These brilliant young minds also produce innovations that are likely to be applied in the automotive industry, which is the reason why so many automobile brands and suppliers support students and events.
The events often take place on prestigious circuits (Silverstone, Hockenheim). Four categories are proposed : Thermal, hybrid, electric and autonomous vehicles. Cars are subject to dynamic tests (skidpad, acceleration, autocross, endurance, efficiency) and static tests (business plan, engineering design & costs and production).
Every test result finishes on a podium, and, at the same time, it awards points for the general ranking of the event.
Today, the EPFL Racing Team includes about a hundred students, the numbers doubled since its beginnings in 2019. Netflix series " Formula 1 : Drive to Survive " buoyed applications, but it is not enough to be a motorsports fan. " These projects require passion " explains Rafael Riber, Team Leader Low-Voltage. Especially in schools like the EPFL, which do not integrate them into the already heavy curriculum. " We meet in the evenings, on weekends… We spend countless hours on the project ! " Moreover, Formula Student competitions are scheduled during the holidays and the young students sometimes need to cover the travel and transport costs themselves. Some even pass their exams remotely during their participation at an event !
Since the students stay on board an average of 2 to 3 years, there is substantial personal involvement. Luckily for the Swiss team, progress has been just as substantial.
Their first car, " Orion" could not run in 2019 because of a safety issue. In 2021, after a year of pandemic " Mercury " performed quite well. Finally, last year, " Artemis " achieved the first podium places in individual events, including three first podium results (engineering design and autocross during the Swiss race, business plan in Spain).
In only four years, the EPFL Racing Team has moved from the 156th place to the 85th in the Formula Student general ranking.
Continued progress involves, as Savinien Semeria said, much more than finetuning details. The team has been ambitious : on the new chassis, there are many new features.
Ariane " features, for the first time, a monocoque structure, more rigid than the tubular chassis used until now. It shifts from two to four-wheel drive, which has been the founders' dream, delayed for budgetary and feasibility reasons. Not without consequences : " We were at the upper end of two-wheel drive cars ", explains Semeria. " Which is fine, but the cars that win the races are all four-wheel drive ! It gives them 30% additional acceleration as well as a better control of the wheels – two decisive advantages. "
Therefore, " Ariane " is heavier than the previous cars. Its batteries shift from 430 V to the maximum authorised 600 V, the team will be able to better distribute and use the maximum allowed 80 kW.
Last but not least, the EPFL Racing Team has decided to line up in an additional category : autonomous vehicles. " We have been considering it for years ", says Riber. " In fact, we have had a " Driverless " division and several students have dedicated their study assignments to the subject. At last, we can use this knowledge, which is highly motivating ! "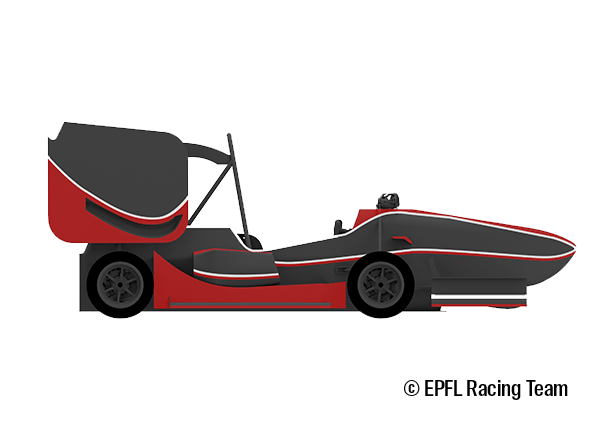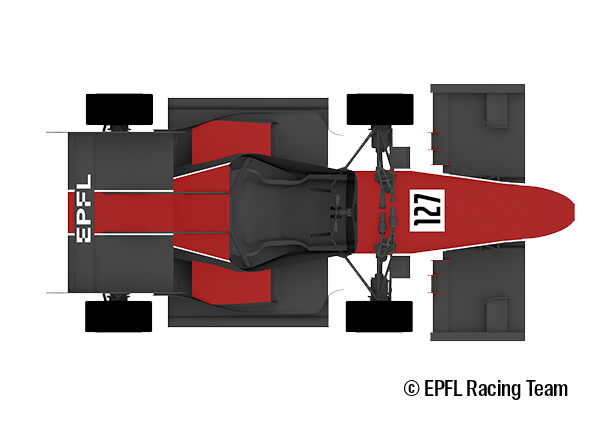 While the " Driverless Software " division continues finetuning the algorithms that control the car, a " Driverless Hardware " division has also been created. It takes care of the sensors, the steering wheel and the breaks. Speaking of breaks : the safety rules of the " Driverless " category require integrating mechanical breaks which are independent from the system – another new feature the team had to work on. Each and every decision entails new challenges.
In parallel, the EPFL Racing Team has chosen a longer-term vision. " We have designed some parts (batteries, chassis, aerodynamics…) specifically to serve for several years ", explains Savinien Semeria. " We have also recorded the tests and adopted knowledge transfer tools. All of this, so that our successors do not have to reinvent the wheel ! ".
All these developments contribute to an extraordinary lesson in engineering and entrepreneurship. They also drive up the budget.
Nine students are in charge of sponsoring (twice more than before) to gather the required 300,000 dollars. This mission, very different from engineering, is none the simpler. " On the contrary, it is rather complicated, since the global situation has led to exploding prices " says Semeria. " We clearly understand that companies impacted, who have sometimes had to reduce staff, are reluctant to launch or maintain sponsorship. "
Nevertheless, dozens of large and small partners had to be found, the EPFL being the largest. The school granted the team a " Projects MAKE " status (concrete, interdisciplinary projects), which ensures financial support in addition to access to the workshops, facilities and dedicated production equipment.
Other partners contribute in kind, explains Rafael Riber. " We have contacted a semi-conductor manufacturer for chips. Some companies lend us their production tools. Dassault Systems their 3D software to carry out life assessment, etc. " For its part, LEMO has supplied 170 connectors (including new M Series High Power, see CONNECTED 18), caps and accessories (power and signal) for " Ariane ".
Working on all fronts, the EPFL Racing Team students have made significant progress. The design of the car was finished late September last year, production has started right after, peaking in January (among other things, the students do carbon injection themselves). Completion stretched from January to May. The car had to be ready by early June for testing on the EPFL parking, then on circuits provided by sponsors.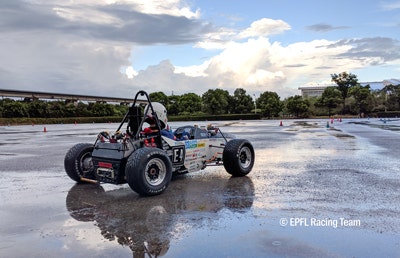 Like the Chinese of Dian Racing, the student teams redesign their cars every year to improve performance.
Finally, it will be time to compete with the rest of the world.
The Swiss team will run in three of the nine Formula Student competitions in 2023 (for reasons of cost and timing, most teams settle for 3 or 4 events). In Switzerland, in early July (electric category), in Germany mid-August (electric and driverless) and in Hungary (date to come) (driverless).
A whole student team will go on site, working on the car and sleeping in tents. Semeria and Riber are looking forward to it. They participated in some events last year and recall, starry eyed, the " super atmosphere " and the extraordinary solidarity of students who readily share info and give a hand.
In between the events, the students will not relax. Quite the contrary : frantic repair, corrections and enhancements will be necessary before the next race, until late at night, if necessary. This is how, last year, their business plan moved from the last to the first place, in a few weeks !
This summer, EPFL Racing are hoping for more than individual podiums. " We are aiming for a podium in the general ranking ", says Semeria. " On the Hockenheim circuit ". It is quite ambitious, as " the German competition is the highest level of Formula Student and Formula SAE ! "
What if they don't manage ? Never mind says Riber. " We will have built solid foundations for our team, for the coming years. " This is what innovation is all about.
Lemo, a partner for young engineers
The LEMO Group has been supporting tomorrow's engineers for a long time. Namely by financial and technological sponsoring of teams running in international student competitions (cars, motorcycles, clean boats, Hyperloop, robotics, drones).
The idea is to supply the best connectors on the market (often several dozens of them) to give young engineers a helping hand with their innovations (and increase their chance for victory). In return, the students give new ideas to LEMO's R&D, they become ambassadors of the brand (and sometimes they even become interns). The Group is particularly involved in Formula SAE and Formula Student, currently supporting about twenty projects.