High Voltage & High Power Connectors
As technological responds to increasingly complex situations, LEMO continues to provide innovative, reliable solutions. Environmental, physical and practical constraints only compound the demands on critical electrical components.
LEMO's high power and high votlage connectors provide superior performance in demanding situations, harsh environments and extreme conditions. From the outset, reliability, versatility and durability have been fundamental to the design of our products. LEMO's generational experience continues to play a major role in the development of essential components for every high voltage and high power system. 
High Voltage
Technical
Requirements


High voltage applications present a range of technical challenges. Among the thorniest obstacles are:
High Voltage
Isolation

High volage components must be isolated from low voltage components. Typically, this is achieved by using dielectric (insulating) materials such as polymers. To further enhance performance, complex geometries are required in order to maximise creepage and clearance distances.
High Voltage
Partial Discharges

Localised electrical breakdown can occur within insulated media (such as air or polymers), resulting in the discharge of small amounts of electrical energy. The consequent deterioration of the insulation may lead to equipment failure. High performance insulation and regular monitoring are the ultimate solutions.
Mastering Thermal Management
High power applications require the careful selection of components: the sum of Joule effect induced heating combined with the maximum operating temperature must not exceed the limits of the component's thermal properties.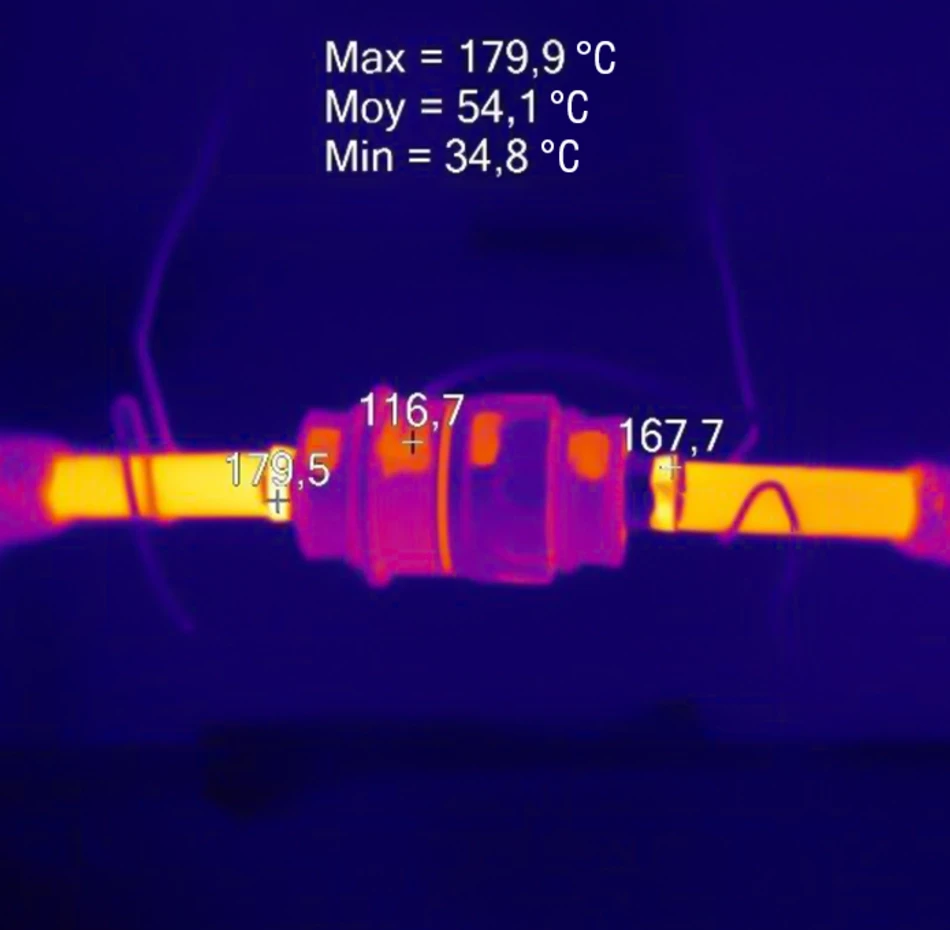 Derating Curves

The derating curve denotes current-carrying capacity. It shows which currents may flow continuously via the connector, subject to varying ambient temperatures, including Joule effect induced heating. A safety factor of 0.8 is included in order to mitigate spikes and to factor in variables in the temperature measurement.  
For example:
The ambient temperature of e-Formula 1 battery connectors is around 50°C. At that temperature, the current that can pass through a 10 mm2 cable is 120A; it is 130A at 25°C and drops to 95A at 100°C (see chart).
Therefore, it is always important to clarify both the ambient operating temperature and the required current to select the right high-power connector. Note that the limiting factor is often the cable and not the connector - special attention is also required in selecting the cable.
The Advantages of LEMO Solutions


Innovative
Solutions to Market Demands

The medical, aerospace, defence and communication sectors choose LEMO because they deploy technologies which rely on high performance connectors in demanding situations. When it comes to your high voltage and high power requirements, LEMO provides reliability, durability, versatility and choice.

Research and Development Investments
LEMO invests heavily in R&D to develop new and existing technologies including our high voltage and high power products.
The use of innovative materials and processes improves the creepage, clearance and thermal resistance of our products. We develop specialised testing procedures such as our high voltage / high power test lab to ensure our products meet the highest safety standards. And LEMO invests in advanced simulation tools to guarantee the design and performance of our products meet our customers' requirements. 

Do you
have a
challenging
project?
No matter how harsh the environment may be, LEMO has a solution ready for you to implement today.
If not, we promise to relentlessly innovate and develop one for you.
Please take a moment to reach out and describe your project, technical specifications and deadlines. We're standing by and looking forward to hearing from you – and adding your business to our thousands of longstanding satisfied customers, partners and employees – very soon.