CONNECTED #18 | LEMO NEWS
Geared up for speed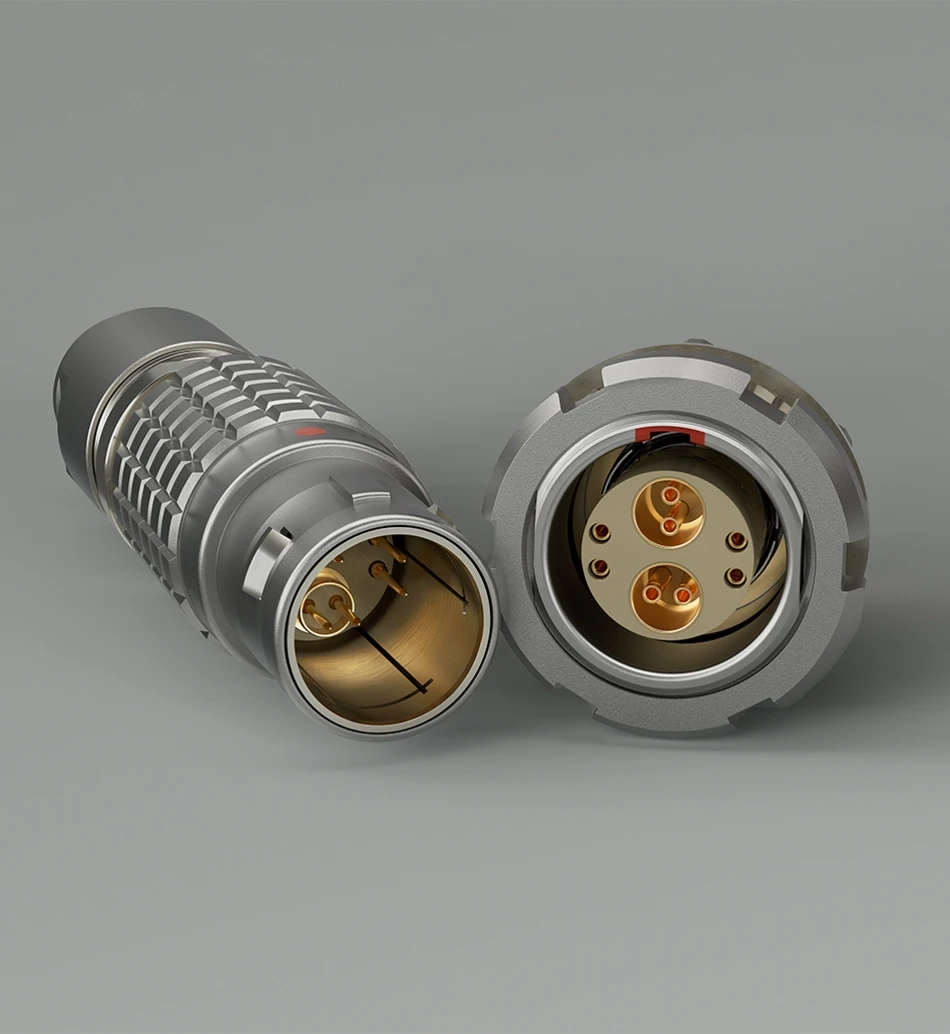 LEMO has launched its all-new USB 3.1 connectors supporting a transfer speed of up to 10 Gb/s. Just like its Single Pair Ethernet connectors, they represent another important milestone in the Group's already long experience in rugged and durable high-speed data transfer solutions.
High speed data transmissions are a prerequisite for contemporary technology and industry. In particular, the "Internet of Things" has become one of the most important technologies of our century. Packed with sensors, objects, vehicles, equipment, machines, homes and factories communicate more and more between each other and with the outside world. The masses of collected data, exchanged continuously, make it possible to check, correct, optimise, or per- sonalise settings and operations, even simultaneously, if necessary.
In order to meet the demand, industrial communication protocols – Ethernet and USB are the most widely used – evolve continuously, enabling increasingly higher transfer speeds. They change so rap- idly, that even the official definition of " high speed " (25 Mbps+) has been outperformed by today's standards reaching 400 times faster speed.
Once the protocols agreed, connector market leaders have been competing to propose the best solutions and LEMO has been riding high on the "high speed" evolution market for almost 15 years. It will continue to do so, by launching this autumn all new connectors combining the exceptional ruggedness, reliability, and durability of its Push-Pull connectors with the USB 3.1 protocol enabling a transfer speed of up to 10 Gb/s.
The shielding of the two 3.1 pairs ensures optimum protection & signal integrity. They are also equipped with a pair of USB 2.0 con- tacts to ensure backwards compatibility as well as two low voltage power contacts.
The USB 3.1 is available for a large variety of models. For indoors applications, the solid B Series (IP50). For outdoors applications and extreme environments, the K Series and the more compact T Series, both of them certified IP66 to IP68.
LEMO is also a leader in solutions adapted to another dominant protocol, Ethernet. Its latest connectors, launched in 2019, were even the very first Push-Pull Single Pair Ethernet (SPE) in the market.
SPE is an increasingly important variant of Ethernet transmission. Using only two twisted copper wires (transporting up to 50 W power) such cables offer slower transfer speed than non-SPE (1 Gb/s vs. 10 Gb/s), but they are more flexible, compact, lightweight and cost effective. These are some reasonable arguments why the automotive industry – whose big cars can embark over 2 km and 50 kg of cables – was the first to adopt it. The SPE is also widely used in other applications, such as railways or industrial automation.
LEMO SPE connectors are proposed in B, K and T Series. There are two variants : one with a single SPE (size 0-511) and another, more specific, comprising two SPE (size 1-512).
With its latest USB and Ethernet models, LEMO continues an already long-established expertise in high-speed data transmission. In fact, it goes back to 2008, with standard connectors complying with the protocols applied at the time (USB 2.0, 480 Mbps and Ethernet 1000 Base-T4, 1 Gbps).
LEMO then developed connectors specifically dedicated to high speed. In 2012, a type A USB 2.0 with ratchet mechanism (the LM.U2A) for increased ruggedness (M Series). Three years later, the faster Ethernet 10G Base-T4 (size 2-514) – including a new M Series as well as a screw-coupling W Series (withstanding up to 30 bar pressure).
All these models still feature in the LEMO catalogue, alongside the new USB 3.1 and Ethernet SPE. This is of course not the end of the story: the Swiss group's R&D team is already working on its next generation high-speed solutions.
LEMO does not only propose connectors. A high-speed perfor- mance can only be reached if all components within the interconnect solution are optimised and matched. To avoid any disappointing experience, LEMO offers customer specific cable assembly solutions manufactured in-house.