RED DIGITAL
The cameras that conquered Hollywood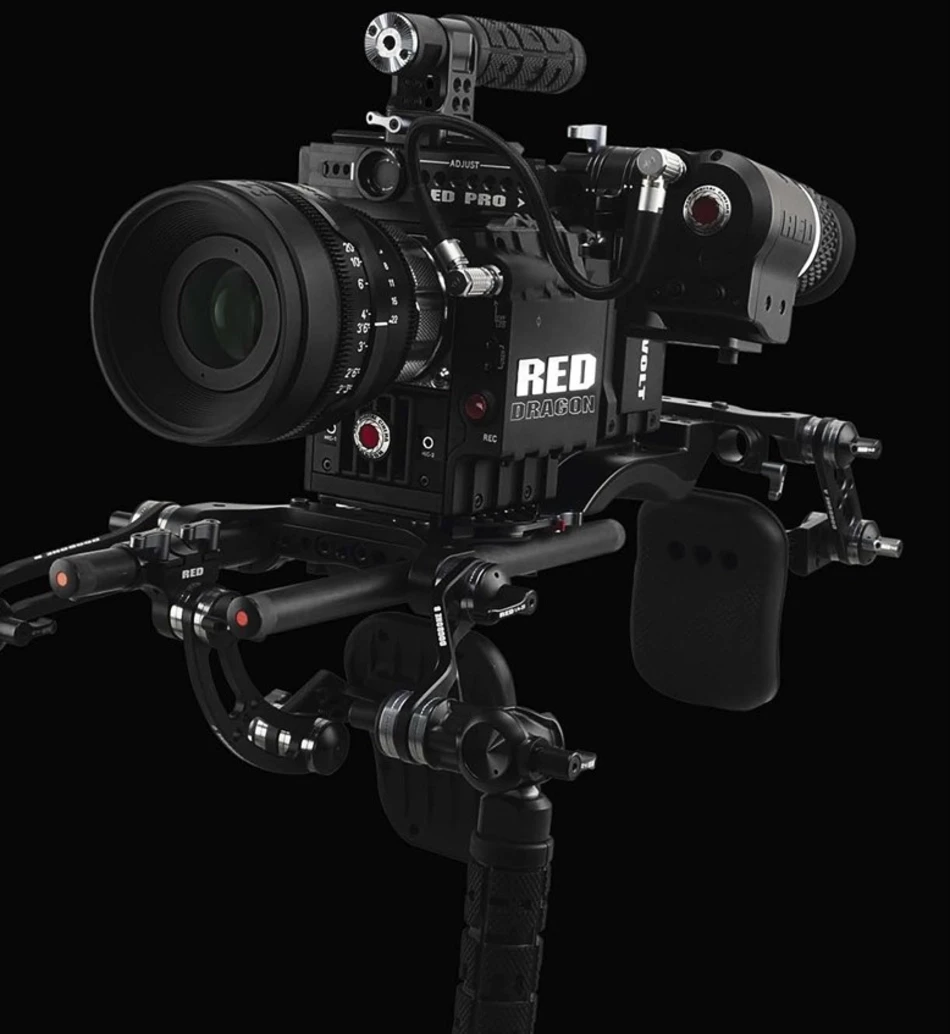 From nowhere to everywhere in only 8 years, this is the amazing performance of Red Digital Cinema in the world of image acquisition.
Their cameras – the first widely adopted digital camera to shoot in 4K – have speeded up Hollywood's transition to being predominantly all-digital. The Californians are now preparing to take on the broadcast world as well.Red is a prestigious customer for LEMO.
In 2007 Apple had taken by surprise the mobile phone giants, by launching a revolutionary Smart- phone. The same year, in a more discreet way, but just as disruptive, the young company Red Digital Cinema launched a digital movie camera that took the movie giants by complete surprise. Hollywood has been forever changed.
From a technological point of view, 2007 is already well in the past. At that time, digital movie cameras – called "HD" maybe slightly too early – recorded pictures in 1080-line resolution – an image quality way behind the classic 35mm. Enters the Red One. With its MYSTERIUM sensor, it records in 4096-line resolution. This was the first 4K digital camera to gain traction in the camera community, years be- fore 4K became a new high definition standard. Moreover, the camera body cost less than 20,000 dollars. What's even more important for Holly- wood: image quality, thanks to their proprietary REDCODE technology, bridged the gap between digital and film.
Four times superior resolution than other digital cameras. Less than a quarter of the price of the cameras being used in Hollywood at that point. The Red One was a technological UFO that no one saw coming.
However, this UFO did not come from nowhere. The founder of Red Digital Cinema is Jim Jannard, also the founder of the famous Oakley sunglasses brand. His relationship with the cinema world is more obvious than at a first glance. A passionate and experienced camera man himself, Jannard car- ries on the same quest with Red as with Oakley: to get the best possible image to the brain. He started Red off with a blank sheet to create a worthy suc- cessor to film cameras. The Red One was the first master stroke.
The new camera went on to convince Hollywood enthusiasts, who, like Jannard, thought that HD was not good enough. Steven Soderbergh, who filmed "Che" with beta versions of RED ONE and Peter Jackson, who produced "District 9" – also shot on RED ONE - are two of the very first fans.
Since then, Red has never let off the gas pedal. They have introduced new sensors: the 5K MYSTE- RIUM-X, then 6K DRAGON, offering an even bet- ter resolution, a larger dynamic range and colour depth. They have also launched new and modular camera models: Scarlet and Epic.
Today, Red Digital Cinema's top-end model is the Red Epic Dragon. Fitted with a 6144x3160 sensor, it records at 6K resolution, in 100 images per sec- ond. To please camera men who like to film by hand, there even exists a variant made of magne- sium and carbon fibre, weighing 500 grams less than the aluminium version.
Red now employs a staff of about 400, which is a lot less than Sony or Panasonic. In this case though, don't believe the Hollywood taglines: size does NOT matter. In only eight years, Red Digital has in fact evolved from a start-up developing a camera project, to become a Hollywood reference for equipment.
Thousands of films have been made with Red Dig- ital cameras. Blockbusters, such as "The Hobbit" trilogy, "The Great Gatsby", "Prometheus", but also – thanks to the affordable price – independent films, documentaries or even video clips.
By making a giant contribution to image definition and quality, while simultaneously reducing costs, Red has sped up Hollywood's transition to a mostly digital landscape and does not intend to stop there.
After cinema, Red Digital is now preparing to enter the world of broadcast. At this year's NAB, (National Association of Broadcasters) exhibition, the compa- ny has announced their Red 4K Broadcast Module. It will allow users to stream real-time 4K video off their Epic or Scarlet Dragon cameras at up to 60FPS.
In search of perfection, Red works with the best component suppliers. For their connectors, they were looking for a company renowned for the quality and compatibility of its products. LEMO connectors have thus been fitted on Red cameras since the alpha versions of Red One.
The California-based company has selected the B Series in various models and sizes. They ensure the perfect connection of the Red camera body to its multiple accessories (motor-controlled camera lens controllers, power supply, viewers, etc.). LEMO has also developed an exclusive owner connector (a socket with 6 contacts) for Red.
The fact that such a high range and avant-garde company as Red has selected LEMO is already a prestigious recognition. The choice of B series LEMO connectors – a LEMO standard for 45 years – highlights just how much the quality and the precision of all its products counts for the Swiss manufacturer.
Since 2007 Red Digital's competitors have of course brought out their own digital high resolu- tion models – including in 4K – and less expensive than before. However, Red Digital still remains the leader. With them, LEMO is ready to boldly go where no technology has gone before.