LIMNTECH SCIENTIFIC
WORKING ON THE HIGHWAY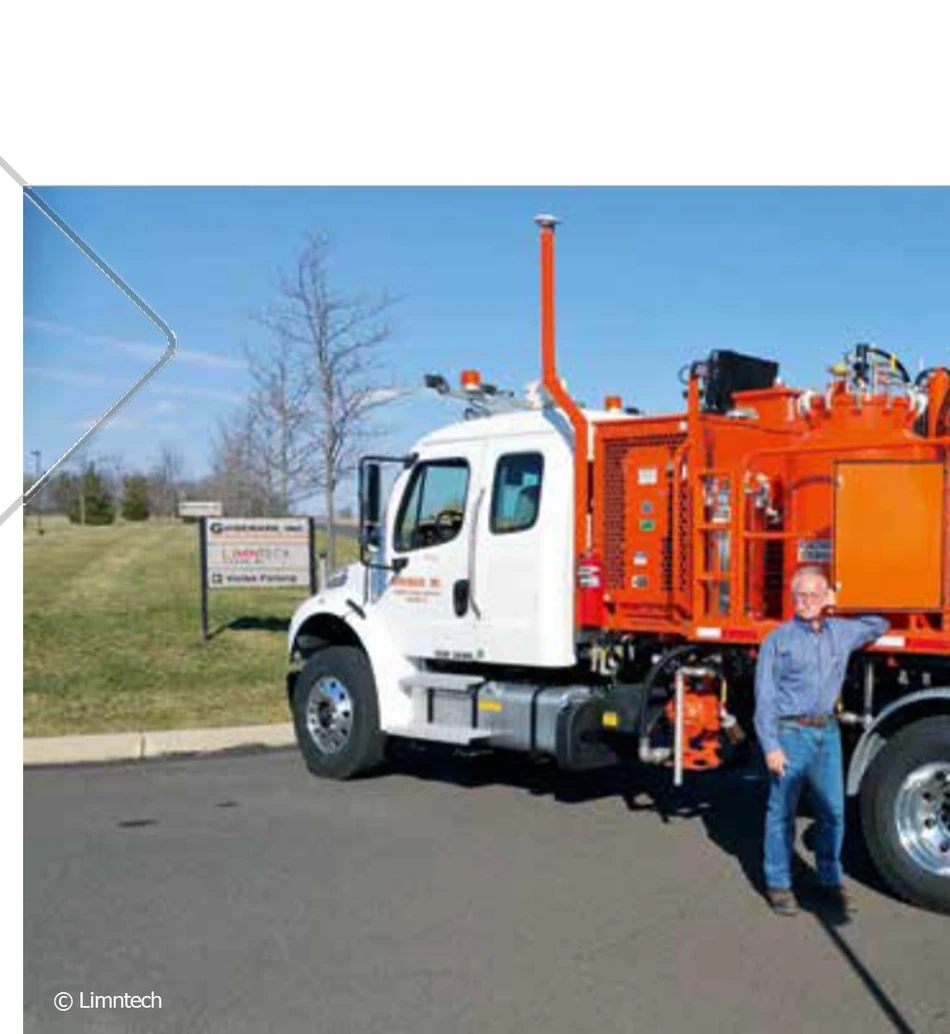 Fully equipped with new technologies, Lifemark systems provide a safe working environment for roadway marking professionals.
By creating these systems, Limntech has met the twin goals of saving lives and improving efficiency.
Working in the middle of traffic is a risky job. Only a few centimetres may separate you from death. Road marking highway workers know all about it. So does Douglas D. Dolinar, who, together with his wife Nancy, founded Guidemark Inc. in 1980. Their company has become a major player in the US road marking sector and like similar companies, several of their workers had been hit and seriously injured by passing traffic.
Douglas D. Dolinar refused to accept these accidents just because there didn't exist any better solutions for road marking than what had been used for decades.
"Our company has flourished thanks to the work of young people from the neighbourhood, explains the owner. These people are still with us, slightly older, but with solid expertise in the road marking industry! It is my duty to make their work safer."
In 2010, with a lot of creativity and persistence, Mr Dolinar started investigating GPS technology as the basis of a potential solution to protecting his workers. Two years later, he created Limntech Scientific with Professor William Haller from Lehigh University (Pennsylvania).
A number of important technical challenges had to be met. Designing an electronic control system robust enough to withstand heavy electrical interference was one of them. Functioning reliably in an operating temperature range of -6° to +46 °Celsius was another major challenge, but they managed to meet them both.
The first system produced by Limntech Scientific was the Lifemark 75, which enables the roadway striping team (a driver and an operator) to work without leaving the vehicle. Thanks to real time kinematics, GPS and laser line technology, Lifemark 75 can do pre-marking processes with a precision of +/- 2.5 cm. This pre-marking process provides an excellent base for painting the lines.
Even more innovative, Limntech Scientific has developed a solution specifically designed for road marking inspection and archival: Lifemark 200. This product provides a tool for governmental agencies and engineering firms for recording and locating road marks, as well as performing quality control tasks at highway traffic speeds. It combines real time kinematics, GPS and machine vision technologies.
This fall, Limntech Scientific will launch an even more innovative system. Lifemark 300 will enable to restripe existing markings without an operator. In fact, the vehicle driver will be able to do the job on his own. This will be the very first machine to be equipped with the patented PIXEL-Smart technology, based on machine imaging. The bulk of the work is automated: the system precisely positions the marking carriage, before dispensing paint or reflecting beads over the pre-existing markings.
While aiming at making road marking safer, Limntech Scientific made no concessions in terms of productivity, quite the contrary. Trucks equipped with these technologies allow the work to be completed much faster than traditional marking methods. According to Limntech Scientific, time saving could be as much as 75 %, which means substantial cost saving. Mr Dolinar says : "This is what we call combining the useful with the pleasant."