CONNECTED #18 | SAUBER TECHNOLOGIES
When formula one is only the beginning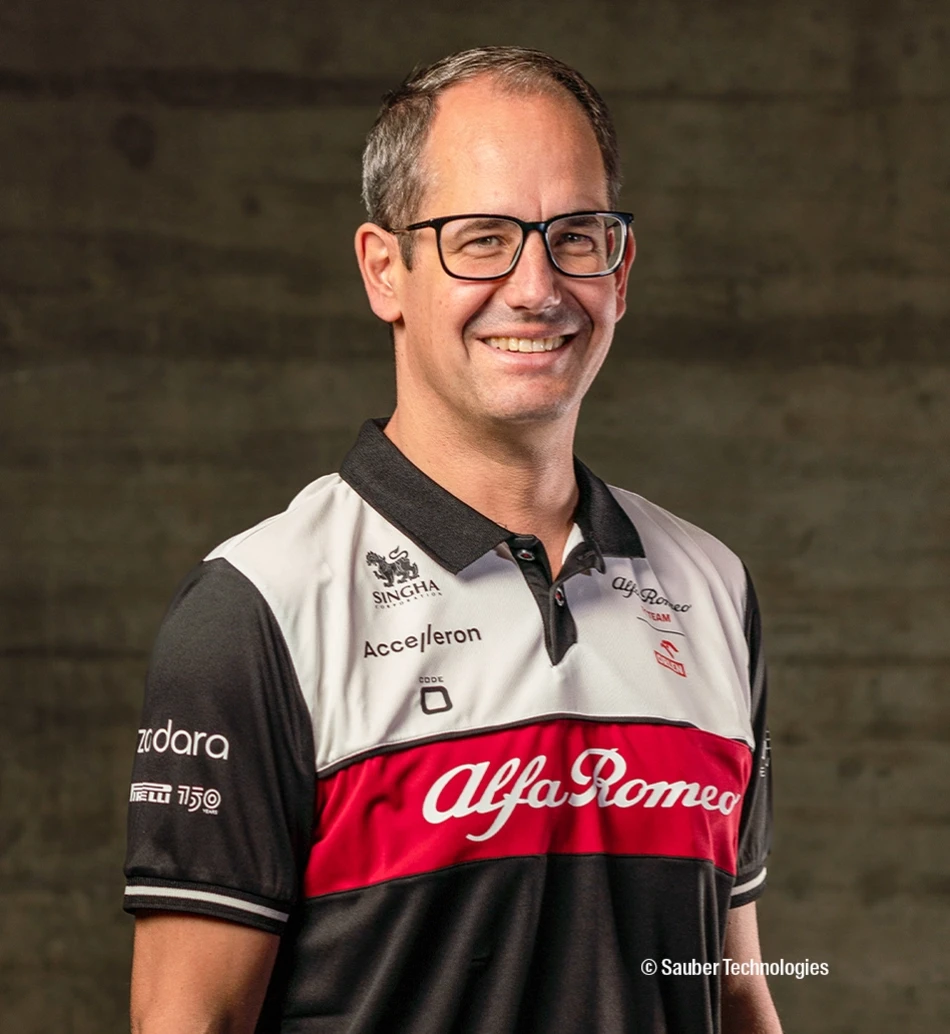 Freshly created Sauber Technologies promises its customers the know-how, equipment, and technologies of 30 years' experience in Formula One. High-end additive manufacturing and wind tunnel tests, among others.
Austrian hydraulic turbines, Swiss wheelchairs, a 70-year-old Ferrari 340, potato cultivation in Germany, a Hawaiian triathlon, a Formula 1 team…what do they have in common ? All of them have encountered complex technological challenges, which were successfully addressed by a small cutting-edge company in Hinwil, nestled in the countryside near Zurich.
At the time of our interview for this article, Sauber Technologies had a staff of about sixty, but it has probably grown in numbers since then. " We are experiencing a great demand ", smiles COO Christoph Hansen, a mechanical engineer. " We hire new people every month… "
Specialised staff, from production workers to engineering PhDs, has been recruited in Switzerland, but also in Italy, UK, Germany and even in India. The company's mission : use Formula One means, technologies and mindset to address the technical challenges of a wide range of businesses.
The Sauber name is well-known in the world of motorsport. It is the name of the founder, Peter Sauber, a motorsport enthusiast, who started designing race cars back in 1970 and won the legendary 24 Hours of Le Mans race with Mercedes. This exceptional trajectory has also been familiar with the premier class : Sauber launched a private Formula One team in 1992, partnered with BMW in 2005, then became independent again, before signing a partnership with Alfa Romeo in 2018.
Meanwhile, Sauber's financial means have increased. A new factory was built, still in Hinwil, and the company became known as the Sauber Group. Sauber Motorsport was created in 2001, Sauber Engineering (3D printing) and Sauber Aerodynamics (testing) in 2017. Today, the first one directs and operates Alfa Romeo F1 Team ORLEN. The other two merged in 2022 to become Sauber Technologies.
We wanted to become more efficient and propose a complete portfolio under the same roof " explains the COO. " Henceforth, when our customers come up with a complex engineering challenge, we can offer a multidisciplinary and holistic approach : we manage the whole process of mechanical design, prototype build and test, production manufacture and final product qualification testing ".
Sauber Technologies has developed remarkable assets. Infrastructures that are unique in Switzerland and rare elsewhere, including its wind tunnel.
Launched in 2005 and continuously improved ever since, this wind tunnel " is the state-of-the-art in Europe for automotive applications ", says Christoph Hansen. The installation provides for testing scale models, and not only statically : active steering or variations in tire pressure can be simulated.
It is large enough to test full-scale cars and, moreover, the sitting position can also be varied to evaluate aerodynamics during breaking and acceleration.
Sauber uses it to test parts for multiple applications. Supercars, aircraft… or competition wheelchairs, which have won four gold medals at the 2020 Paralympic Games in Tokyo.
The second pillar of Sauber Technologies is the one taken over from Sauber Engineering : 3D printing. This process has been adopted by the world of F1 for a long time, so the company also started using it very early on. " We integrated it already in the nineties ", says Hansen. " We invested in our first machine in 2007 and have continued to upgrade our equipment and capability ever since, integrating 3D metal printing 6 years ago. We have acquired solid expertise and deep mastery of the process. Very few companies can reach our quality and repeatability level. "
Top notch equipment makes it possible to produce synthetic components in SLS (selective laser sintering) and SLA (stereolithography) as well as various metal components in LPBF (Laser Powder Bed Fusion). Not only prototypes : Sauber Technologies can produce finished products in annual quantities of more than 5000, if requested.
The factory is also equipped with a 3D scanner to detect any deformation and or geometric deviation. In addition, the facility has various post processing technologies, such as sandblasting or even HIP (hot isostatic pressing) : " This is a process that closes the last pores in the metal parts, namely in titanium, which makes it possible to influence and manipulate the mechanic properties according to the application. "To have a better control on materials, Sauber has a dedicated materials R&D department. " Its scope covers all steps, from development to product qualification. " The company is keen on contributing to the success of its customers. " We do everything for sea, land and air ! Components for submarines, ships, cars, bicycles, motorcycles, aircraft… We were even among the first to produce finished parts in polymers for space applications. "
It is out of the question to mention ongoing partnerships. Sauber simply refers to case studies presented on its website. There you can discover triathlon bikes, as well as scale models of hydraulic turbines. They are made with such precision and quality that the customer can prove its design efficiency and so win the contract. Sauber has also helped a customer to develop and produce a solution to harvest potatoes more efficiently.
And there is of course this special customer and sister-company, Sauber Motorsport (see the next page), for which it is the exclusive supplier of 3D printed components.
" We print all the components for wind tunnel tests as well as all the finished parts for the F1 car itself " explains Christoph Hansen. Some of them are complex structural elements, others simple housings. " Sometimes we do the complete design and engineering of some elements. This year, for example, the car's roll hoop was 3D printed. " For the currently running model (the C42), between 300 to 400 elements were printed, 150 of which in metal.
In Formula One, rules are changing fast, often from one year to another. Manufacturers must review their designs permanently. Therefore, new parts must be designed and produced as fast as possible to be able to test them in the wind tunnel before the start of the season.
Sauber Technologies know-how and progress in 3D printing techniques contribute to reducing the number of iterations required and the duration of the process (sometimes from weeks to days). Still, it is a race against the clock. No problem for Christoph Hansen : " Our DNA comes from motorsport. Agility – just like innovation and excellence – is also how we contribute to the motorsport industry. "
" Formula One is among the extreme environments that LEMO perfectly masters. LEMO has even developed dedicated solutions, the F Series launched in 1995 and the M Series in 2006. They have been rather successful since both series have been adopted by the FIA and are on board all Formula One cars. The M Series equip even a crucial part, the ECU (electronic control unit), which controls, among other systems, the engine, the throttle pedal, the gear box or even the energy recovery system – in addition to the transmission of masses of data to the team.
Alfa Romeo F1 Team ORLEN uses no fewer than twenty different types of LEMO connectors. " Those on the systems which are common to all cars, as well as the ECU and the HIU (hub interface unit), but also on some sensors ", explains Davide Spagnol. Others connect the team's communication equipment – " you can find them under the control screens and portable radios. " The drivers even wear them : " The interface to the drivers' earplug and microphone is also equipped with LEMO connectors.
" According to Davide Spagnol, Sauber has been using LEMO solutions for 25 years. The two Swiss technological groups – sharing the same quest for excellence and a true passion for motorsport – have further strengthened their cooperation this year. They have signed a partnership contract on exchanging products and engineering in view of developing new solutions.