CONNECTED #2 | REDEL
Vital connectors in the heart of hospitals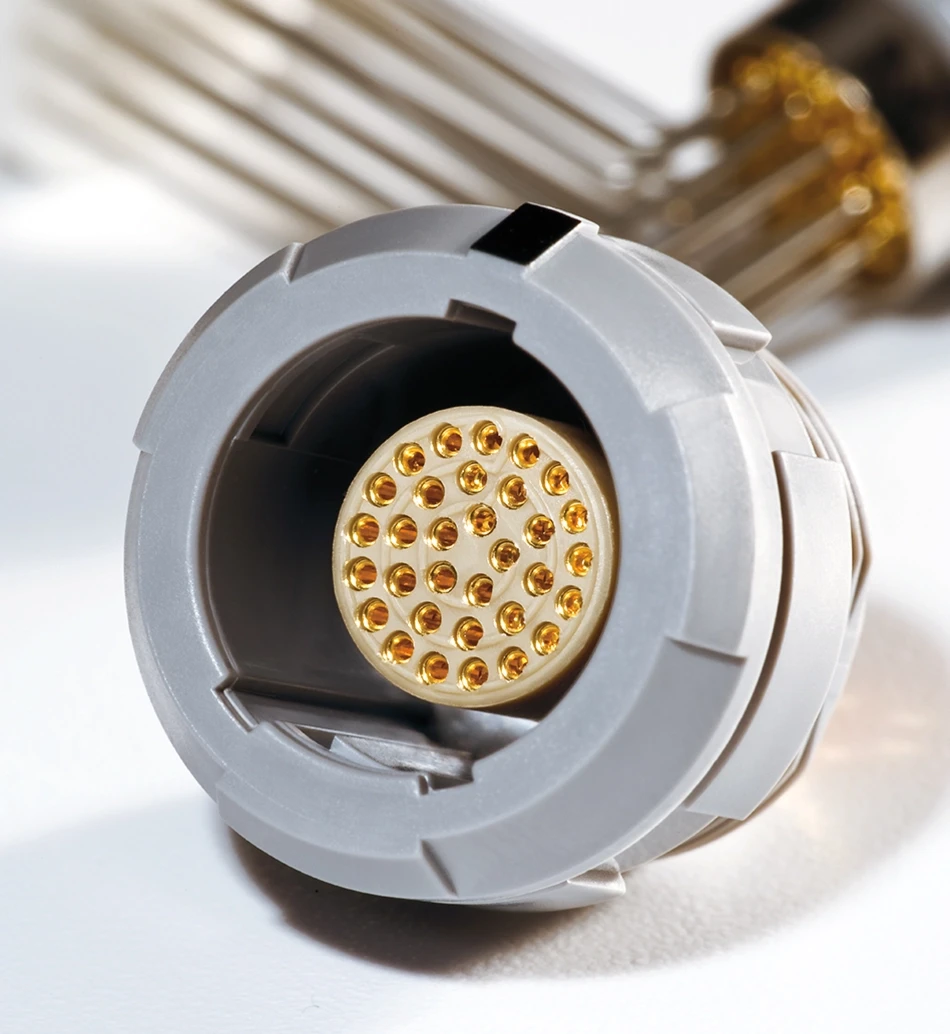 The REDEL brand is a benchmark for medical connectors. Situated in the heart of a Swiss region well-known for its precision machining and technological know-how, LEMO Group's REDEL factory manufactures high-end connectors for major leaders in this demanding market.
Many of us have benefitted – without knowing – from the reliability of REDEL connectors. In fact, they provide vital links between patients and medical equipment in hospital rooms, operating theatres as well as a multitude of other applications. These connectors are used by international leaders in the field, mostly Americans, supplying equipment to hospitals in more than 80 countries. They are a reference in this sector, where technology is literally vital.
The success of REDEL connectors is due to their unique characteristics. They are lightweight, resist to extreme temperatures between -50 and +170 degrees °C (so suitable for sterilization) and identified by colour coding. The connections are secured by means of mechanical keyways preventing the connection of a patient to the wrong device. All components must meet the highest requirements to ensure a reliable high quality Push-Pull connection. Connectors need to have high contact density: "The technological challenge is to fit the highest number of contacts in a small section – says Abraham Ratano, REDEL's director. It is also to include hybrid fluidic connectors which can carry gas or liquid in addition to electric signals." The team keeps finding solutions to be able to push the limits of miniaturization, the precision of injection moulds being close to 3 microns.
With REDEL, "plastic" does not mean low quality. On the contrary: connectors are manufactured in high-tech materials, in polysulphone and, even better, in polyphenylsulphone, a compound that didn't exist 25 years ago. "It is the BEST, says Abraham Ratano with enthusiasm. Polyphenylsulphone resists to 1000 sterilization cycles, i.e. 10 to 20 times more than polysulphone. Five times lighter than steel, these plastics offer further advantages: they do not retain heat, are allergen-free and can be coloured."
Last year, the new SP series connectors made their debut in the REDEL catalogue, which includes thousands of part number options. The culmination of REDEL's expertise, they are ultra resistant and innovative with a new patented Push-Pull system. They integrate 22 contacts (instead of the previous 14) in a 14 mm diameter panel cut-out.
SP connectors are used in the fields of medicine, electronics and test & measurement instruments. Their exceptional specifications are the result of two years of development as well as joint research by REDEL's plastic injection mould specialists and LEMO's R&D team.
REDEL makes 50% of its turnover with medical connectors. The other half comes from working for the LEMO Group. All the know-how, exceptional skills in miniature manufacturing as well as high performance machines, sometimes specially developed for REDEL, are at the Group's entire disposal. The factory produces metal parts for the LEMO Group (contacts for all connectors, niche products made of stainless steel and titanium for professional high definition TV cameras, nuclear applications, the automobile sports industry as well as aeronautics). REDEL also provides various tooling (moulds, dies, assembly fittings and control devices).
REDEL (Reprise et Décolletage LEMO = LEMO's precision machining centre) was born in Sainte- Croix, a small Swiss town, in 1986, when LEMO acquired the moulding and screw-machining unit of Hermès Précisa, an office machine manufacturer that had gone bankrupt. "They had excellent know-how in micromechanics and mould production", explains Abraham Ratano. The company could thus benefit from long-established local high technology, that is still very much active (see page 21).
Turnover has multiplied by four since the early nineties, thanks to significant and regular investment as well as operational excellence via continuous improvement processes. There has been spectacular progress from the technological point of view as well. Where five or six operations were necessary to make one part, a single operation is sufficient today. Product quality has never ceased improving: reject rate has dropped to 0.5% of the turnover, compared to an average of 6% in the mechanical industry. Production time and leadtimes have been drastically reduced, for example from 12 weeks for 100,000 contacts 15 years ago to 10 days today. Consequently, 99% of REDEL products are delivered to the supply chain on time – very Swiss!