AMZ RACING TEAM
Students on the high-tech fast track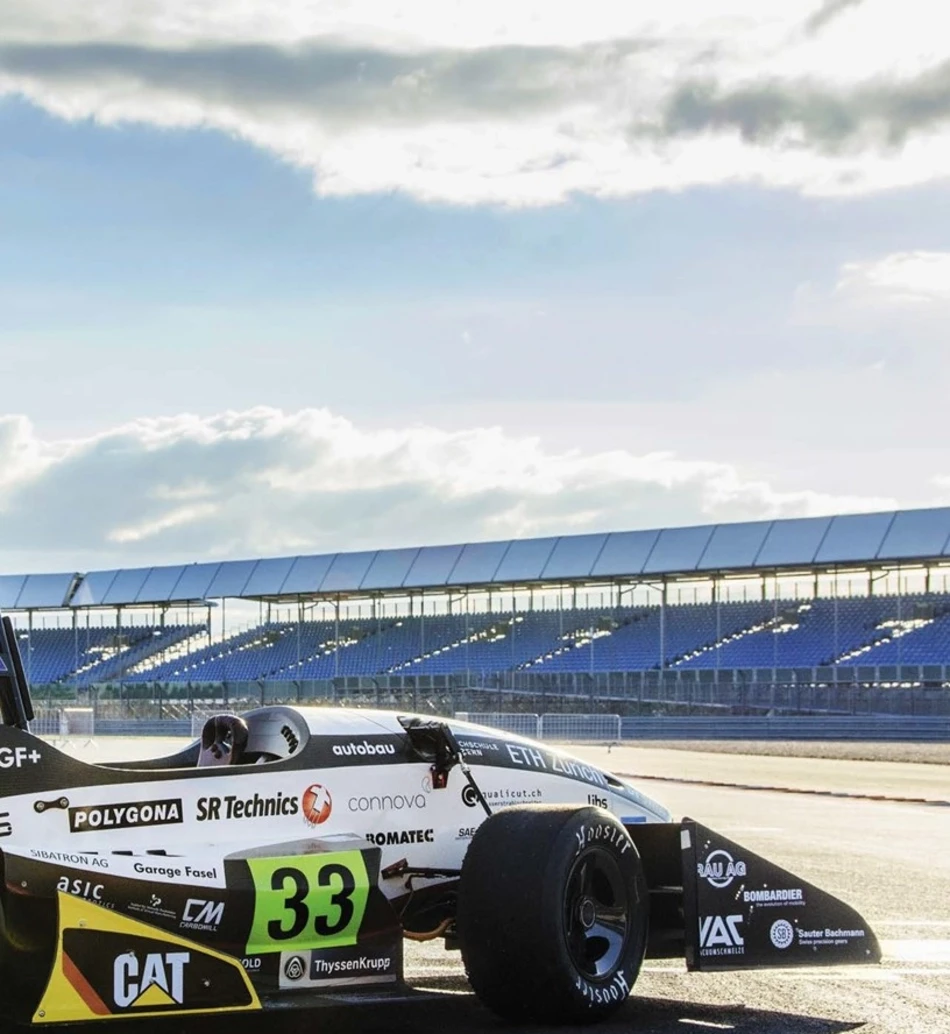 Design and build your own racing car and then compete on famous race tracks. This is the technological adventure involving students from prestigious universities. 
It is called Formula Student and a Swiss team have obtained brilliant results.
Everybody knows Formula One Grand Prix races, but have you already heard about Formula Student? This racing championship, reserved for students, hosts real gems of tech- nology designed at major technical universities of the world (Stuttgart, Toronto, Bath, Florence, Georgia Institute of Technology…).
The special feature of Formula Student is that it not only makes the cars compete against each other, but also rewards their design quality. The competition is split into a static part, where the applied technologies and profitability of the project are evaluated and a dynamic part, where road performance is tested on a 22km endurance race, an acceleration contest, a one lap autocross race and a figure 8 skidpad.
Among the most prominent race teams, one particularly stands out by its innovative approach and technological prowess. Founded in 2006, AMZ Racing Team consists of 30 me- chanical and electric engineering students from the Swiss Federal Institute of Technolo- gy (ETH) Zurich and the University of Luzern, in Switzerland.
After having participated in Formula Student with combustion engine-powered cars, AMZ Racing Team decided in 2010 to focus entirely on electric power. This decision was motivated by the considerably wider technical possibilities open to this type of vehicle.
Weighing 168kg with four 3.4kg motors (one on each wheel), accelerating from 0 to 100 km/h in 2.2 seconds: the performance of the vehicles designed by AMZ racing team is simply amazing. For this purpose AMZ Racing Team uses a tried and tested method, improved from year to year.
First of all, they use ultra-light materials, such as compact 19-pin connectors or the carbon fibre monocoque chassis on the race car. Further, the key components of the car, like the engine or aerodynamic elements are all designed in-house and therefore optimised for this type of car.
The strength of the AMZ Racing Team is all the united competence of a team of 30, supported by a solid network of Swiss and European partners.
Success came quickly: last year AMZ Racing Team won first place overall at the prestigious Silverstone Race. In 2014 they went even further by winning three out of four Formula student races that they competed in.
AMZ Racing Team's great adventure is far from over. Every year a new model is designed and new challenges are taken up. For students joining the team, this is a fantastic opportu- nity to combine theory and practice, dreams and reality.