DR. ROBOT WILL OPERATE ON YOU
Streamlined, scalable & Swiss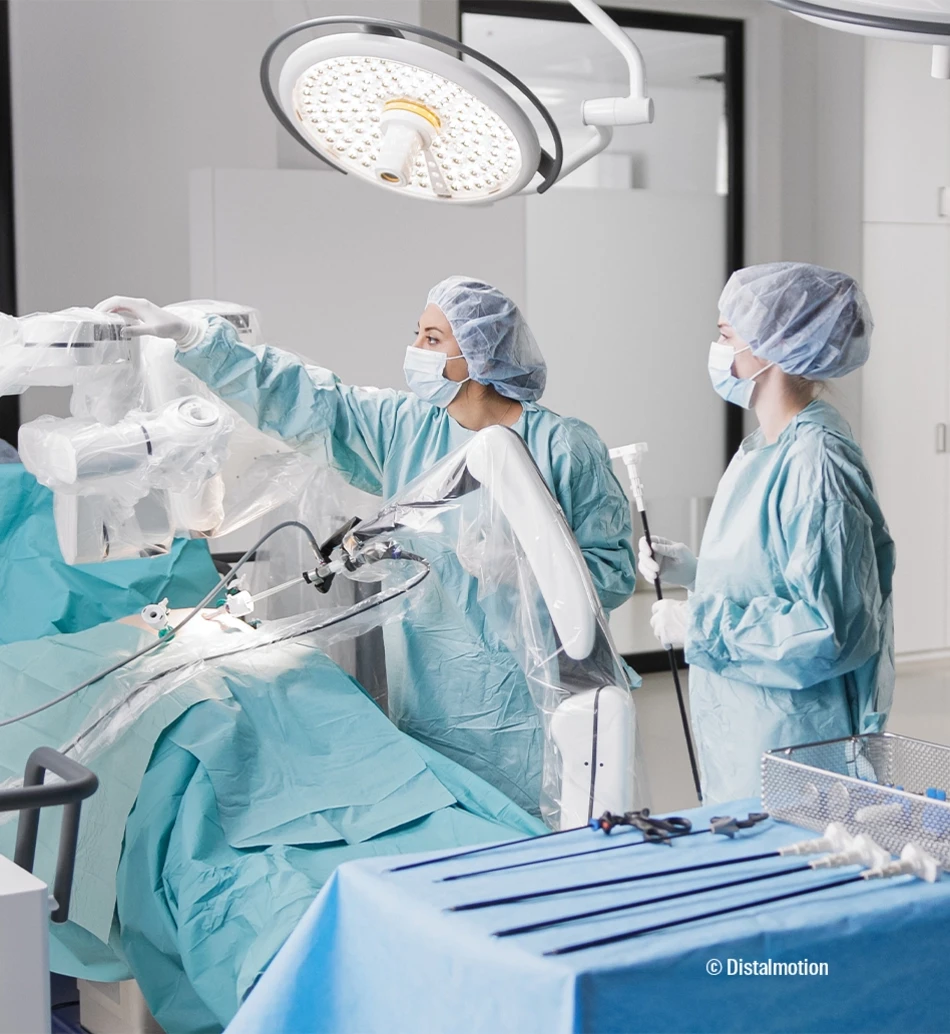 Every year, in Europe alone, millions of surgical operations are being performed using traditional open surgery, even though they could benefit from a minimally invasive approach. Why? First and foremost, minimally invasive surgery can be rather difficult and challenging. Robotics solutions provide significant support to surgeons, especially for the most delicate parts of the surgical procedure, highly complex and precise movements in confined, hard-to reach spaces, thus empowering surgeons to perform more, safer and better minimally invasive surgery. Such solutions, however, are the Rolls-Royce reserved for wealthy institutions.
This is the market – and user – problem that Distalmotion, a Swiss medical device company founded in 2012, managed to tackle. Today, its solution Dexter currently being marketed, the quest is finally taking shape: "We will contribute to turning surgical robotics into a standard of healthcare", promises its CEO Michael Friedrich.
To get there, Distalmotion did everything to remove the two major obstacles hindering the widespread adoption of robotics solutions: complexity and cost. First of all, by distancing from the sector's founding concept.
"Robots currently used in minimally invasive surgery often apply the 'remote surgery mindset' originally developed to facilitate surgery in scenarios where the surgeon and patient are spatially separated and not necessarily in the same operating theatre", explains Friedrich. The idea was to make it possible for specialists to operate wounded soldiers remotely, using robots capable of performing the complete operation. Current solutions deriving from this approach require complex equipment, designed in a way that ultimately distances the surgeon from his patient and team.
Usually, the robotic console via which the robot is controlled is located in the same operating theatre as the patient – not only in Dexter's case, but all other soft tissue robots as well. In some sense, this makes traditional, remote surgery technology and design even more paradoxical, i.e. the surgeon is in the same operating theatre, yet distanced from the patient and surgical team, because the console is not sterile and standard workflows are inhibited.
For Friedrich, this distancing does not make sense in the case of standard operations, where proven, successful workflows exist, including clear gestures and complicity in the healthcare team. Separating the surgeon from the rest breaks processes and requires additional ones.  
Dexter was designed to achieve exactly the opposite: "to reduce complexity and integrate robotics into the standard operating process as naturally as possible."
With Dexter, the surgeon stays with his team and his patient in the sterile field. Moreover, he doesn't have to choose between "a robotic operation" or "traditional laparoscopy": he can use both at his convenience. Distalmotion enables switching from the robot's console to the patient in 20 seconds, including instrument changes. "Dexter integrates the best of two worlds", concludes the CEO.  
The robot's design is a direct expression of this quest for simplicity, with its compactness and low floor space requirement. The three robotic arms – two driving the operating instruments and one driving the endoscope – are mounted on separate mobile units and designed to guarantee easy access to the operating site.
Dexter uses an open robotic platform. It is also compatible with various existing laparoscopy instruments as well as all 3D medical imaging systems. The aim is obviously to respect user habits and choices.  
Last but not least, Distalmotion has overcome the prohibitive price obstacle and proposes an innovative financing system: various "transparent and flexible" financing models, ranging from capital expenditure (purchase) options to rental and pay-per-use, including training and maintenance as well as support services. Variable costs are based on the consumption of single-use proprietary equipment.
A spinoff of the Swiss Federal Institute of Technology (EPFL) Robotic Lab, Distalmotion employs a staff of more than 80. It has stayed on the shores of Lake Geneva, where it benefits from a favourable environment. The area referred to as the "Swiss Health Valley" is home to hundreds of companies, research centres and other institutions active in biotechnologies, pharma and medical technologies.
At the end of 2020, Dexter obtained the CE European label, opening the way to its clinical application. In June 2021, Distalmotion announced its successful first use "the World's first hybrid robotic surgery". Distalmotion is now looking to roll out Dexter in Europe via an "Early adopter programme", as a first step. The company has also set eyes on the US, where the submission process for the US FDA is underway.
Distalmotion is targeting hospitals of all sizes, including small and medium-sized, for which robotics has been out of reach until now, as well as large institutions to make the move from a single robot to one robot for every floor.
"Dexter makes robotics accessible to more indications and surgeons, more hospitals, healthcare systems and patients" concludes Friedrich. The democratisation of minimally invasive surgery can now start. "The market is ready for a new approach, with a user-friendly and patient-centric solution."