Lemo
Planned non-obsolescence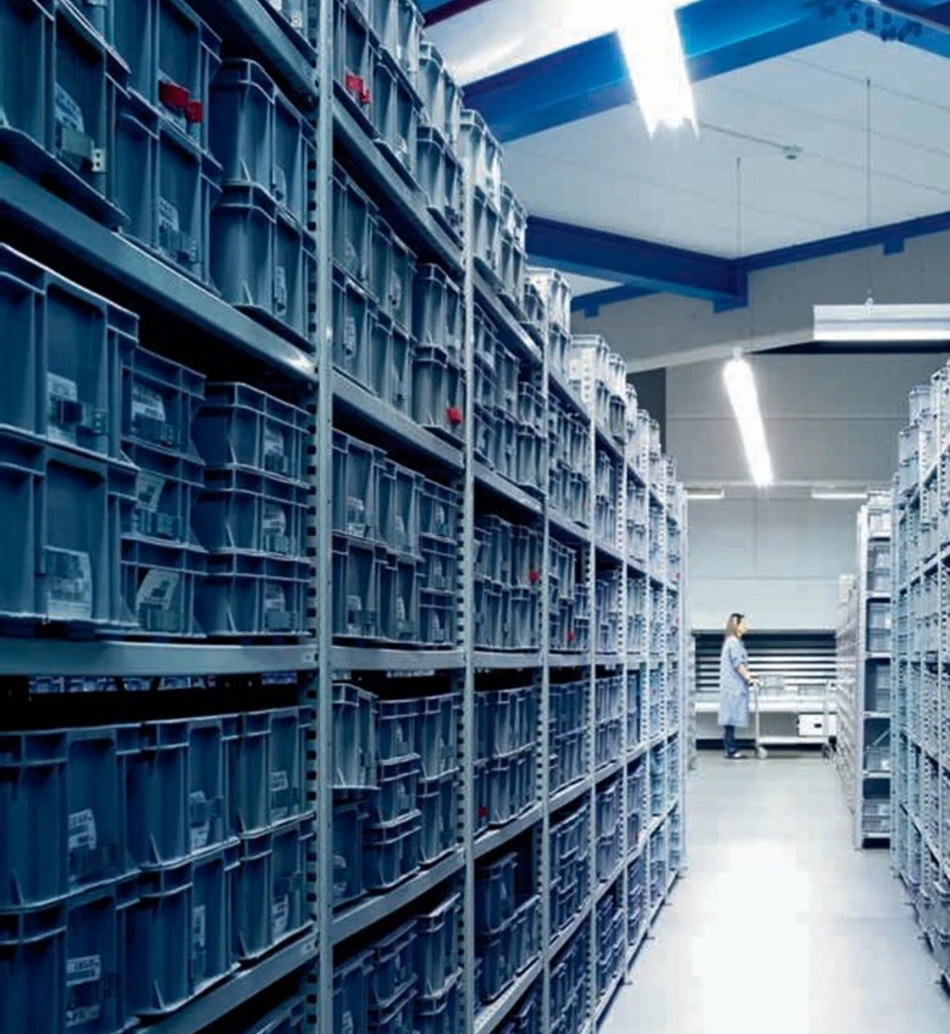 At a time when new technologies keep emerging and replacing each other, LEMO provides a rare, even unique, service.
In a sector where life cycles tend to shorten due to obsolescence, LEMO offers not only innovative cutting edge products, but also parts and sub-components that date back to decades, whenever necessary.
Forty-seven million pieces of 30,000 different types of components. This is the actual LEMO stock, at its Swiss headquarters only. To be able to deliver parts and sub-components over several decades requires special infrastructure. We are very far from the rapid or planned obsolescence that characterizes many current technologies.
Maintaining an important stock in order to better serve customers has always been part of LEMO strategy. Even if it requires huge investments in terms of workforce, financial assets and space of course. "In the early days of LEMO, we manufactured more than what was necessary, mainly to avoid irregular production runs, explains Josette Martin, who has been managing stock for 42 years. Customer requirements were irregular and our order portfolio was under development, we had to be able to react rapidly to orders." Today, this colossal stock provides for the company's "non-obsolescence" strategy.
Nuclear industry is the one sector formally requiring a guarantee from LEMO to provide parts over a period of ten years. However, requests for parts from other sectors are not rare either. "For example, LEMO USA has recently been contacted for a part number used for test & measurement applications, says Serge Buechli, marketing manager. The part number dated back to 1974! The part has of course evolved in 40 years, but our colleagues were able to provide its present part number, which is part of our standard range."
What happens if a customer requests a part that is out of stock and there are no compatible existing part numbers? "Given the size of our stock, this hardly ever happens! Answers Serge Buechli. If it does happen, we are capable of reproducing the obsolete components." For this reason, LEMO has kept a few old machines. Moreover, the company has saved drawings of all the parts produced since 1970 in the archives.
These drawings were originally line drawings or made with tracing paper. "In a few years, we have used four software generations. We have carried out many updates in order to have digital drawings that we can exchange between our factories." Most LEMO sales companies have their stock of components, but they contact the Swiss headquarters with special requests.

During her four decades with the company, Josette Martin has seen special requests of all kinds. "Some research institutes or military or aerospace customers give us their specs in paper format. Some others send us the requested part, or even deliver it personally!"

Personal delivery was what a Swiss nuclear research engineer did. "The component was ancient, but we managed to trace it. The plug was still functioning, so he decided to continue using it and we offered him all the other components!" The anecdote dates back to some years, but Josette Martin still remembers it perfectly well. "Happy and satisfied that we were able to handle his request, the customer told me that LEMO was the Rolls Royce of connector components! This kind compliment proves how important this service is to our customers."