A story full of innovations
From the original push-pull... To global connector leadership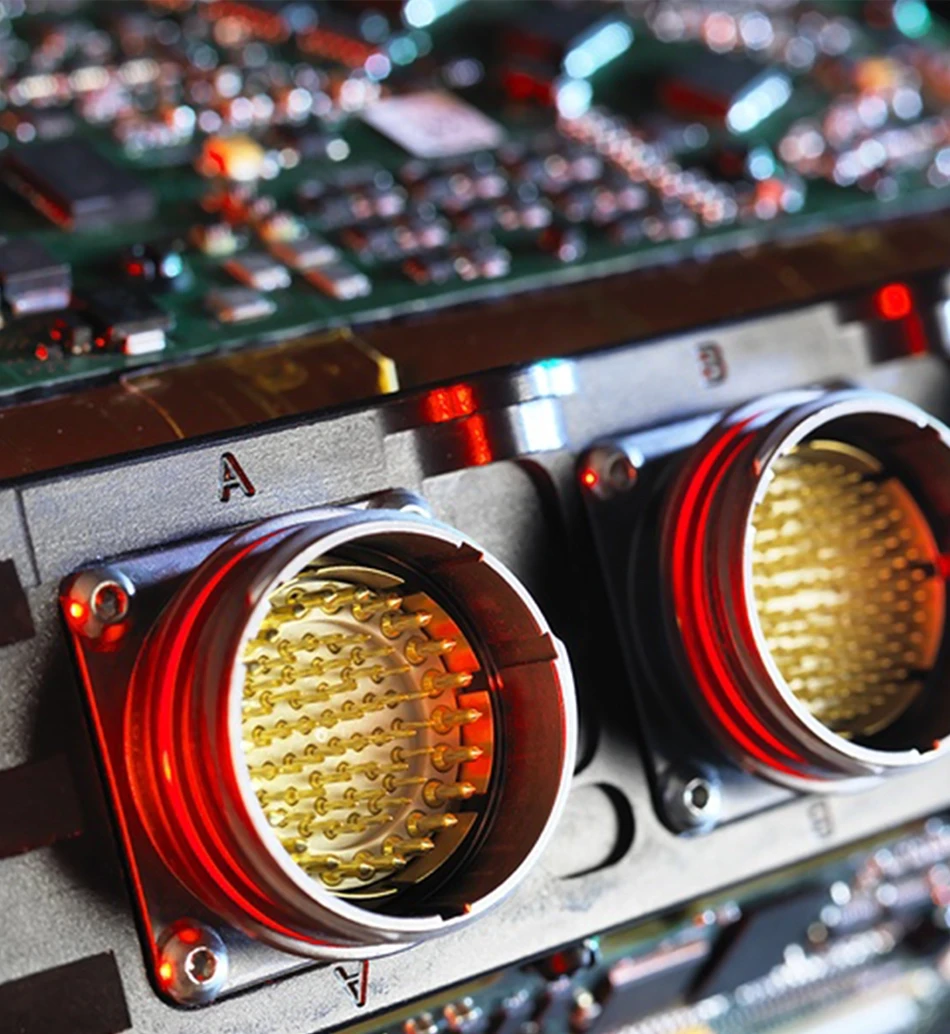 For three quarters of a century, LEMO has been continually redefining high-performance connectors. A rich story told through its most iconic innovations.
1957 was the year that officially marked the birth of the Push- Pull connector. Once the patent was filed, LEMO immediately launched its first connector range, the S Series. The Swiss Post & Telecommunications and the CERN (the European Centre for Nuclear Research) were among the first LEMO customers. Robustness and reliability, with unequalled coaxial performance, have propelled the success of the Swiss connectors.
In 1967, LEMO proposed a watertight variant of the S Series, called E Series for even harsher environments. Success came quickly, but LEMO did not rest on its laurels. As of 1974, back to the drawing boards: based on feedback from customers and distributors, a brand-new Push-Pull generation was created, the B Series, launched in 1977. Among its many improvements, it offers a more complex keying system to prevent operating errors. A watertight version, the K Series was also proposed in the meantime.
These first four series have positioned LEMO in the sector where it has stayed ever since : high performance interconnection solutions. Their quality has never been challenged : the regularly enhanced S, E, B and K Series are still successful in 2021.
REDEL and the conquest of hospitals
Today, LEMO's metal solutions are widely used in the medical sector. This has been the case for the B Series (during this pandemic even more than ever), but also for the S, K, D and M Series. However robust, metal is costly for applications with a short lifecycle. Therefore, LEMO introduced the 3P Series, its first plastic range already in 1984.
Convinced by the potential, LEMO decided to invest important resources in this range. In 1986, it acquired the moulding and machining units of a factory gone bankrupt and built a new plant in Sainte-Croix (Switzerland) – the REDEL subsidiary and brand was born. Henceforth, plastic Push-Pull connectors were developed and manufactured here. The 1P Series was launched in 1988, then the 2P in 1998.
Safe and easy-to-use, these connectors have become ubiquitous in hospitals. Success has also brought about counterfeits and, when the patent expired in 2008, plastic Push-Pull connectors became widespread.
It was time to step ahead.
Two years of development and another two of adjustments and finetuning gave birth to the SP Series. Highly compact, patented internal latching, up to 22 contacts (14 for the other plastic series), high resistance to chemicals and sterilisation, improved safety by blind mating… The SP Series, launched in 2012, has become the new reference for medical connectors. Other sectors, including the automotive and test & measurement, have also been convinced by its merits.
The journey of high-performance plastic connectors is far from over : new products are being developed in the REDEL and LEMO laboratories.
LEMO revolutionises TV (and is honoured by an Emmy Award)
UHD, 4K, 8K… : the quality of television images seems to be an endless race. Yet, in the early nineties, no one seemed to care. Except in Japan.
In 1994, an ARIB working group aimed to propel Japanese television to the new age of high definition. To this end, they needed a standardised connector and invited several potential suppliers to the meetings. LEMO presented them a prototype which had instant success with the working group. Regularly challenged by competition, the product went through a number of modifications, but in the end, it was the final choice and LEMO edited the new standard. The 3K.93C was launched in the end of 1995, and giants Sony and Panasonic became its first customers.
Both Americans and Europeans edited their version of the new Japanese standard, but without using them, preferring to continue with their respective standards. For a decade, HDTV thus only existed in Japan, with LEMO being the only supplier of standardised connectors.
About a decade later, the USA decided at last to move on to HDTV. The working group, after fierce discussions, decided not to reinvent the wheel and to continue based on the ARIB standard. Their revised standard, the SMPTE 304, was adopted and became the international standard. Competition then entered the 3K.93C market, but LEMO – with over 10 years' presence and experience – has never lost its leadership position.
The 3K.93C was gradually introduced into all TV studios around the world. It has equipped broadcast cameras at Olympic Games (as early as 1996) or football world cups, the British Premier League, Madison Square Garden in New York, and BBC studios.
LEMO's role in this revolution has been recognised. In 2021, it was even honoured by an Emmy, US television's prestigious award. LEMO will receive it this autumn in Las Vegas.
From motorsport to harsh environments
Motorsport is another field in which LEMO managed to assert its leadership.
The Group's omnipresence (Formula One, Formula E, Endurance races…) is based both on technological competence and a true passion for motorsport.
The success story accelerated in the mid-nineties when Formula One started looking for new connectors capable of resisting ever more challenging race conditions. LEMO immediately launched a vast survey with race teams. Based on the results, R&D – led by CEO Marcello Pesci himself at the time – developed a new range in less than 6 months. F Series connectors are compact, watertight and lightweight, shock-, vibration- and oil resistant. They generate only very low electromagnetic interference and are available in many different configurations. Enthusiastic Formula One race teams adopted them right after their launch in 1995.
A decade later, the power of cars, the harshness of races and the reliability and safety requirements further increased. F Series connectors have been widely used in cars, but several teams have also asked LEMO to develop even more robust solutions. Robust enough to be connected directly to the engines, where vibration, shock and temperatures are extreme. LEMO met the challenge. Abandoning, for the first time in its history, the Push-Pull latching system, it uses a ratchet screw-coupling mechanism designed for aeronautics, integrating the requirements of Formula One and defence. The M Series (for " motorsport " and " military ") was born in 2006.
It was a success and joined the F Series onboard all Formula One race cars, but not only.
When designed for motorsport, the product must be ready to endure anything. F Series and M Series connectors have become a reference for all applications in harsh environments. Extreme heat or cold, vibration or shock of several G, dust or water ingress. From aerospace to medicine, from robotics to drones.
The M Series confirmed to be one of LEMO's major successes. Its catalogue continues to develop (amongst its latest variants : the mixed High-Speed coax and the High Power). Today, it embodies without a doubt the quest and know-how of the Swiss brand.
From connectors to complete solutions
When talking about LEMO's innovation, discussions should not be limited to only connectors. Other high-end solutions have been created, such as HDTV media converters, as well as cables that have also become part of the Group's history. In fact, LEMO has been manufacturing cable assemblies for decades, to support its customers' total system requirements with bespoke interconnecting leads of an equally uncompromising high-quality standard.
This has been a permanent concern for LEMO. Since its early days, know-how has been verticalized to ensure total quality control of the production chain. For this reason, specialised staff has been hired, equipment, factories and sometimes even companies have been acquired. From component manufacturing to surface treatment, everything has been gradually internalised. Cables could not be an exception either
In 2014, the Group made a logical step forward by acquiring the NORTHWIRE factory. A natural extension, since the US company has also been proposing high-performance products to sectors that are also LEMO's (medical, defence, energy, aerospace…).
Important resources are invested to enhance production at NORTHWIRE and to create optimal synergies. The US company developed an SMPTE cable right away, ideally complementing LEMO 3K.93C connectors. Biocompatic PTFE cables came next, offering an unrivalled medical solution combined with REDEL plastic connectors. Light emitting and " smart cables " are also among the projects.
The new cable expertise fuelled connector innovation as well. LEMO-NORTHWIRE synergies have certainly been motivating R&D to develop new promising LEMO and REDEL solutions.
Meanwhile, the Group has broadened the scope of activities : from a " simple " connector manufacturer, it has become a designer of complete connector solutions. The seemingly small nuance means a considerable difference in terms of services and products proposed to customers.
These 75 years have brought many innovations, whilst R&D's quest has remained unchanged : to reach the highest quality, unequalled robustness and reliability, combined with exceptional ease-of-use.
This quest has given rise to iconic series, but also to many others: hermaphroditic solutions initially designed for space (H Series) ; connectors withstanding radiation emissions in nuclear power plants, remotely controlled by robots (N Series) ; or marine and underwater environments (V, W and U Series) ; high-voltage connectors (LEMO Y Series, 05, 5G, REDEL K/S Series); small IP68 Push-Pull multipole connectors for outdoor applications (T Series) ; and many others.
This quest for quality explains why LEMO innovations continue today, like yesterday and tomorrow, to be selected for the most demanding applications and the harshest environments. Everywhere where connections are too precious to be accidentally interrupted.
ASML, Leica and the art of building long-term partnerships
It is not easy to win a new customer. But winning the same customer year after year, sometimes through decades, is even harder. LEMO has built successful, long-standing relationships with a multitude of customers.
With Leica, for instance, the story started in 1971 with the first Wild-Leitz electronic telemeter based on the phase difference method. The company has gone through transformation and development to become the Leica Geosystems Group. Today, 50 years later, LEMO is still one of its suppliers.
On the other hand, ASML has been using LEMO solutions since 1996 already. One of the global leaders in manufacturing photolithography machines for the semi-conductor industry, today ASML is worth 10 billion euros.
We could also mention the CERN, Formula One and other major partners. Their continued trust is the reward for a lot of hard work and also the source of great pride.