CONNECTED #13
LEMO Benelux's unstoppable growth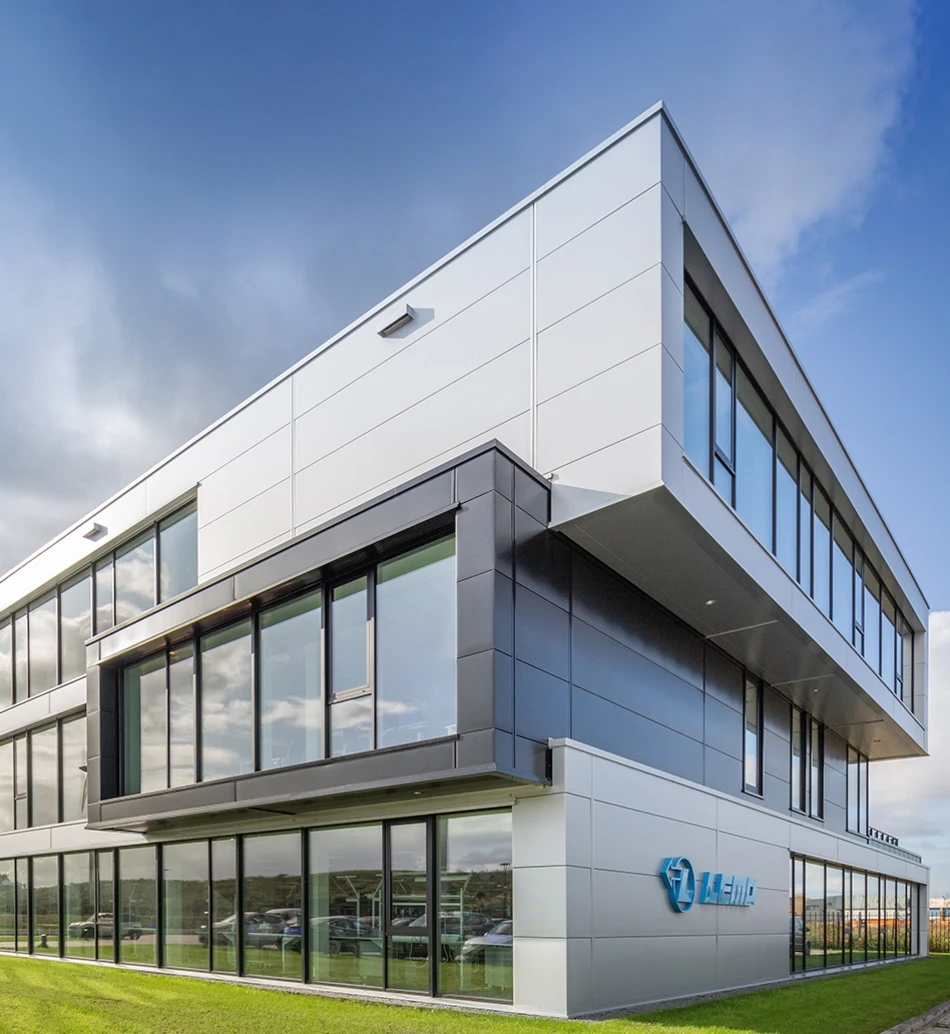 To support the unprecedented growth of its Benelux business, LEMO has invested in a new, purpose-built, hi-tech and eco-friendly facility near Amsterdam.
With improved logistical flow, expanded inventory and expedited delivery services: LEMO's new Dutch site, inaugurated in September, offers a great many advantages to employees, customers and the environment alike.
LEMO opened its Dutch subsidiary in 2005 with the initial purpose of covering the Benelux market. Thanks to its ideal position, close to the Amsterdam hub, the company has since been entrusted with additional missions. Currently, it has a cable assembly department and is home to the LEMO European Distribution Center, supplying several European companies (for example Scandinavian customers). It also hosts the European stock of LEMO's Northwire Cable.
Meanwhile, its staff grew from 2 to over 50 people.
To keep up with its evolution, the company had to move first in 2007 and then again in 2012. All the same, LEMO Benelux's site in Heemskerk became less ideal as it tried to accommodate organic growth.
With office space split across several buildings, storage facilities spread over three floors (far from the assembly area), and with no loading dock or freight elevator (the buildings were designed for offices), it was neither efficient, nor easy to work in.
The new building provides a solution to all such problems.
With its three floors coloured black & metal grey, its large windows and pure contemporary design, the site (an investment of 6.2 million euros including the land) is simply superb. It is much more than that, adds Niels Zonneveld, LEMO Benelux's Managing Director: "A big, big step in every aspect!"
This time, LEMO opted for the town of Haarlem, bigger and closer to the enormous port of Amsterdam as well as Schiphol airport and its main freight carriers. This close proximity should further improve distribution (shipping on the same day for orders placed before 3 p.m.).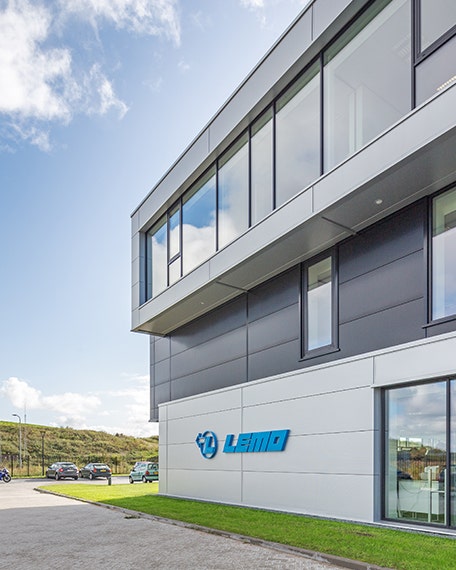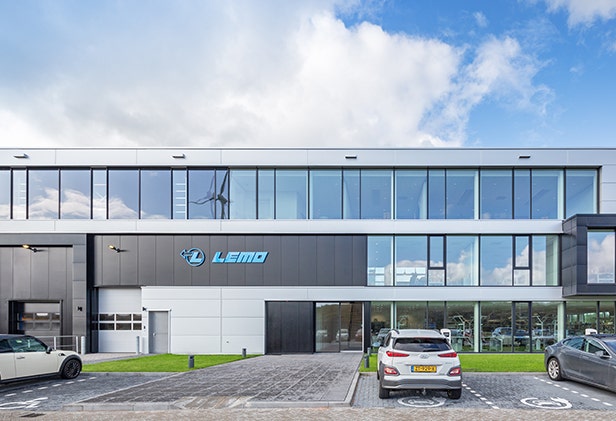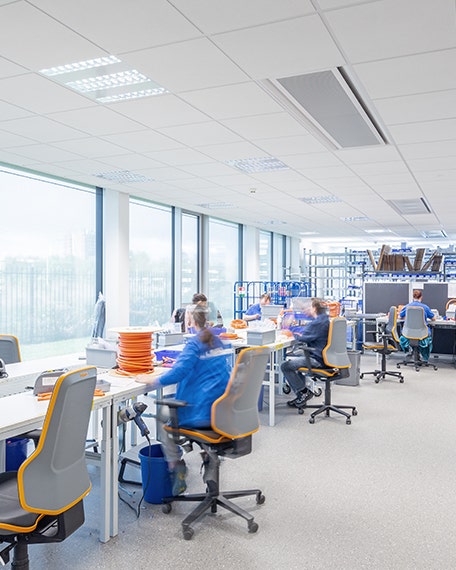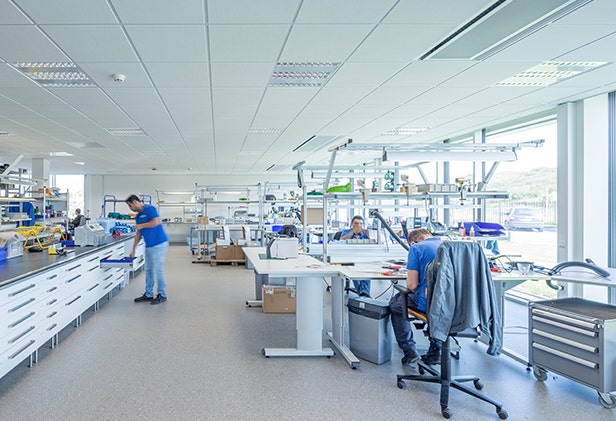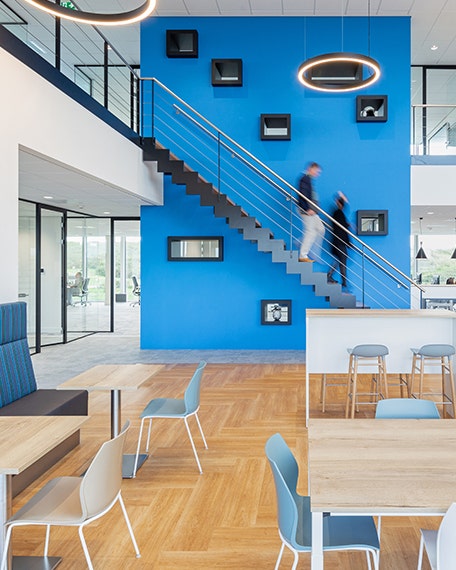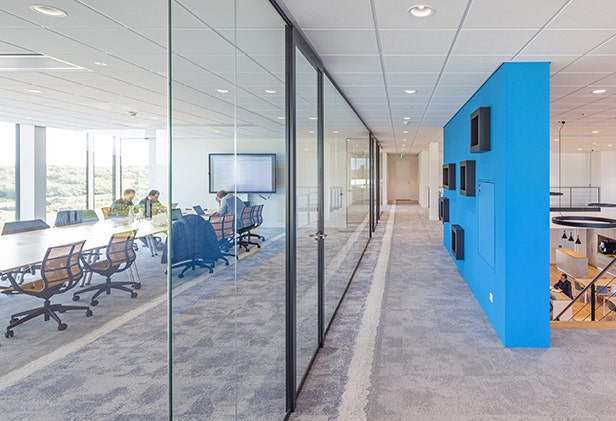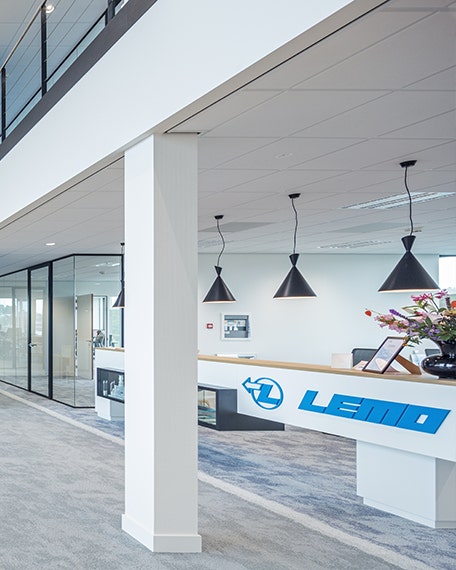 The teams are now close to the parts and equipment they require. And yes, there is a loading station to improve logistics which dramatically reduces the manual labour element.
The change is particularly spectacular for the stock. With the installation of the 12-meter high Modula inventory system, the surface area (600m2) could be greatly reduced, whilst still increasing the overall volume four times. The thousands of components and finished products are now stored, found and distributed much faster. Northwire cables have their own "Paternoster" system, both customers and subsidiary companies benefitting directly from it.
Every new building is an opportunity to confirm company values. This is also the case for environmental protection: the site (equipped with heat pumps and solar panels) got an excellent GPR score - the Dutch index for evaluating the energy consumption, materials and the potential reuse of the building.
The GPR score also includes employee comfort and health, highlighting yet another LEMO value, seeking to be acknowledged as a global "employer of choice".
Plenty of light, large spaces, pleasant meeting areas and a roof terrace… a fairly futuristic working environment, which contributes to improving the working life of employees "as well as to attract new ones, which is just as important for us", adds Niels. The location of the new site, closer to big cities, makes it even more attractive.
Last but not least, the design of the building - to which LEMO's CEO Alexandre Pesci has also contributed – perfectly embodies the brand's high-end positioning. The site invites visitors, customers or partners for a pleasant experience.
No more moving, promises Niels. With 2,500m2 (doubled in size), "we have plenty of growing room to triple assembly and double office staff". There is enough space for new equipment (overmoulding and pressure testing have already been planned) to meet new challenges.
The company's message to customers is very clear: LEMO will serve them better than ever and for a long time to come.