Special Feature
Formula E: the R&D Lab for electric vehicles
Formula E is not only a series of spectacular urban races, but also a laboratory for electric mobility.
Four time F1 world champion Alain Prost talks about this new FIA category which combines two essential driver qualities: speed and control.
Ten racing cars running at the speed of over 220 km/hour in the heart of a big city. They look like Formula 1 cars, but they do not emit any exhaust gas and they make a whistling sound of 80 decibels, which is about half of their siblings' roar. Welcome to the world of Formula E, a race launched by the FIA in 2014, solely for electric racing cars. 
Along the race track set in the city streets, there is a calm and watchful man, legendary F1 driver and 51 time Grand Prix champion Alain Prost. The Frenchman is the co-founder and co-proprietor of Renault e.dams, one of the nine racing teams competing in this second season. He thinks (just like many others involved with F1) that it is out of the question that Formula E is the future of F1. One shouldn't even compare the two "these two races are too different to compare." By the way, what attracted him to this new challenge was also what fascinated him in Formula 1: the fusion between sports and technological innovation. On the one hand, there are the rushes of adrenaline and on the other, the research and development likely to influence the automotive industry.
"Electric cars have been thought of for a long time, but they have never really taken off, explains Alain Prost. We have been lacking the right technologies and an economy of scale. It has now started growing rapidly and Formula E was launched to promote its boom. Everything we do research, experiments contribute to accelerating this evolution. We are still at the beginning which makes it all extremely exciting."
Everything is always fast paced in car racing. Technical evolution is even faster than in F1, points out Alain Prost. "Processes are extremely responsive. We don't have development plans for every race, but almost! We assess every competition in order to make immediate adjustments. Even so, a new car model has to spend four years in laboratory before being launched."
The rules are made to give everyone the same chance, leaving at the same time some flexibility to encourage innovation.
During the first season all the cars were identi- cal. Carbon shells produced by Dallara, electric powertrain by Renault Sport, batteries by Wil- liams Advanced Engineering, electric engines by McLaren Electronics Systems, running gears and car assembly by Spark Racing Technology.
For this second season, the regulations have been loosened: for example, constructors could design their own engine, gear box, rear suspen- sion, or electronic control housing.
Batteries are a perfect illustration of everything that is at stake in this sector. This year again, they are identical for all. Very heavy (at 200 kilos), they only last 30 minutes, which is the half of a race. The drivers need to change cars half way through the race. They also have to manage energy efficiently: if they run at full capacity, their batteries will die out a few laps before the end! This is done on purpose, as it encourages the racing teams to come up with the best possible way of using the permitted 170 kW (230 hp) battery output.
At this performance level, the battery technology is rather complex. "A lot depends for example on temperature, says Alain Prost. As all smartphone users know, the cold is terrible for batteries! We have also run in temperatures of over 30 degrees, which is not good either. Some thought we would never make it, but we have managed to control the cold as well as the heat. We learn and progress."
Alain Prost is happy with the successful launch of Formula E and of his Renault e.dams team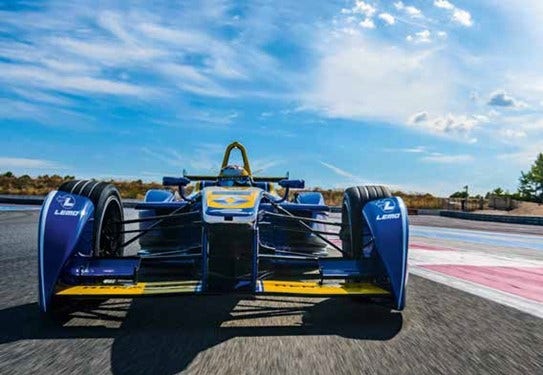 "IF YOU DON'T SAVE ENERGY, YOU DON'T FINISH THE RACE!" 
In a few years, the constructors will be able to use batteries other than those manufactured by Williams. "The preferred solution is to work together to develop the best possible batteries, which would benefit all the racing teams, as of the fifth season. In the future, maybe everyone could have their own batteries."
This gradual opening-up is strategic. "Request- ing from each constructor to develop its own batteries as of the first season would not have been reasonable." This requires very specific technology and the development would have been extremely expensive, therefore, not many racing teams would have committed to the project. "Formula E has to be reasonable. It has to manage its development and costs which F1 has not always been able to do otherwise it will not last." These restrictions do not hinder progress: the regulations foresee that, as of the fifth season, a battery will last the full hour of the race (no longer necessary to change cars), whilst producing more power than today.
The second season ended on 3rd of July in London. Alain Prost is happy with the fact that there only ten races. Organizing additional competitions would cause conflicts with other racing schedules, which would create major problems for the drivers who compete in different categories.
Having top drivers, among them several F1 such as Sébastien Buemi is part of Formula E's success.
Again, thought out strategy has paid off. "I'm delighted to see the interest shown by constructors, confirms Alain Prost. Several major constructors have been participating since the first season, such as Audi, Mahindra, DS, Renault… Jaguar and Williams have already announced their intention to join the next season. Others like Mercedes or BMW are interested and are waiting to see how the regulations will evolve."
The FE has also attracted the public. Races are organized intentionally in the heart of big cities, sometimes major capitals, such as Beijing, Paris or Berlin. This impressive setting, up until now only seen at the Monaco Grand Prix, or video games, involves enormous organizational constraints. Consequently, the cities only sign up for one or two editions and the competition (test runs and the race) are run in one single day. 
Being such a "rare" event makes Formula E very attractive and popular, highlighted even more by the eVillage on site, with concerts, various entertainment, sports events, driving simulators or stands promoting electric power.
Compared to Formula 1, the public can get closer to the drivers and the race cars. The FIA is also promoting new technologies and interaction. For instance, the public can vote for its favorite drivers. The three most popular drivers can also benefit from a "fan boost", additional power they can use at some point in the race. 
Two years after its launch, the image of Formula E has confirmed: Formula E is like Formula 1, but greener, more urban, more fun, more "hip" and more contemporary. Also more popular with women (there is even a Swiss female driver taking part in the competition, Simona de Silvestro for Andretti). The jet set is also present, notably the actor Leonardo di Caprio who is very much involved in the cause of sustainability and is the co-founder of the Venturi team, whilst Richard Branson is with the DS Virgin team, enough to attract a new type of spectator. Even in USA a race is held this year in Palm Beach, where Formula 1 has never managed to break through.
Alain Prost has made this observation:
"By racing in big cities, we get closer to our public, who is apparently younger and open to new technologies, compared to the public of Formula 1. Urban people are also the ones who suffer most from pollution and therefore more receptive to the image of electric mobility promoted by FE. I am not for exclusively electric energy, I prefer to be able to choose from various technologies. However, if there is one place where all the vehicles should be electric, it is in cities." 
The notion "right time, right place" has worked for FE, an excellent concept, concludes Alain Prost. Whether this new form of competition replaces or not one day its elder brother, the FIA has opened up to a new promising road.