2021-05-11
An Emmy award for LEMO!
On 4th November, LEMO was honoured with a prestigious Tech Emmy Award at the (virtual) Emmy Awards ceremony. American television has thereby recognised the Swiss company for its major role in the launch and development of HDTV. This is also a great birthday present, as LEMO has just celebrated its three quarters of a century.
LEMO received its Technology & Engineering Emmy Award for "the standardisation and commercialisation of Television – Broadcast hybrid electrical and fibre optic camera cable and connectors". It was the Swiss company that created, with its 3K.93C Series, what has become the global standard for HDTV.
The adventure began in the mid-1990s, when high-definition television did not yet exist. Japan wanted to launch it and needed a standardised connector to do so. The prototype proposed by LEMO was accepted, and it was the Swiss company that set the standard. Its 3K.93C solution was launched at the end of 1995 with giants Sony and Panasonic as its first customers. When the Americans, and then the Europeans, decided to move to HDTV in the late 2000s, they adapted this standard, which became the de facto global standard.
The 3K.93C Series has been gradually conquering every TV studio in the world. It has equipped television cameras of the Olympic Games (as early as 1996) and the Football World Cup, in the stadiums of the English Premier League, at Madison Square Garden in New York and in BBC studios. HDTV has become ubiquitous.
The Tech Emmy Awards should have been held in Las Vegas, but it was "virtualised" because of COVID. LEMO is in good company: Disney, Google, Netflix, Sony, the BBC, Avid and Akamai are also among the award-winning companies this year. LEMO shares its Emmy with other players in the HDTV revolution, including Japanese (ARIB), American (SMPTE) and European (EBU) institutions.
Coincidentally, LEMO receives this prestigious award only a few days after celebrating its 75th anniversary. The company was founded in Morges on 19th October 1946. In 1957, its founder Léon Mouttet invented the Push-Pull system, which would propel his company to the forefront of the connector industry.
Image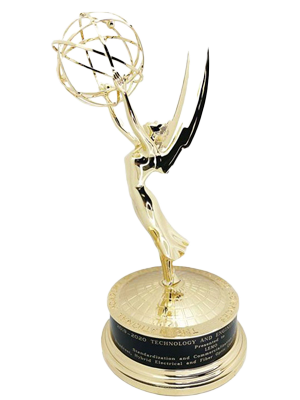 About Tech Emmy Awards
The Emmys are awarded annually by the National Academy of Television Arts & Sciences (NATAS) in all areas of American television. Technology & Engineering Emmy Awards were established in 1949 and were the first of their kind. They reward innovations that have made a lasting difference to the world of television, whether in hardware or software, data processing, streaming or audience measurement systems. The Emmy is one of the four main awards in American show business. The others are the Oscar (film), the Tony (theatre) and the Grammy (music).