AVINGER
ARTERIES: Advanced technology tackles the heart of the problem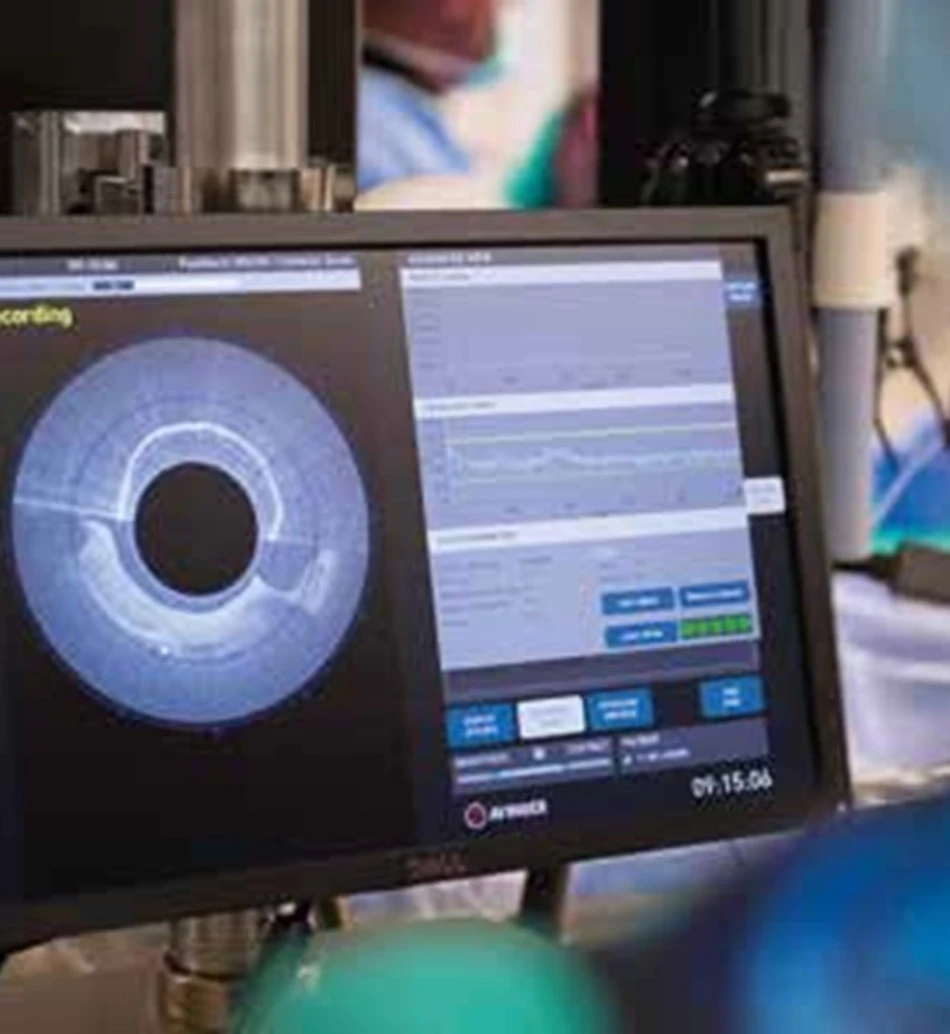 Since March of this year, a new device to treat Peripheral Artery Disease (PAD) is available.
That allows physicians to see inside arteries during a directional atherectomy procedure to remove plaque that blocks blood flow to lower limbs.
Peripheral Artery Disease affects nearly 20 million adults in the U.S. and over 200 million people globally. PAD is caused by a build-up of plaque in the arteries that blocks blood flow to the legs and feet. What are the symptoms? Often dismissed as normal signs of aging, symptoms of PAD include painful cramping, numbness, or discoloration in the legs or feet. PAD can become so severe and difficult to address with traditional treatments, that patients and physicians often resort to invasive bypass surgeries, which can result in even greater health risks and lengthy, painful recoveries. In severe cases, patients often face amputation, the worst-case scenario associated with PAD.
California based Avinger designs, manufactures, and sells image-guided catheter-based systems for the treatment of patients with PAD. These two available Avinger systems provide options both for crossing totally occluded arteries (the Ocelot™ device), as well as removing plaque from arteries (the Pantheris™ device), which is also known as atherectomy. In the 1970's, its founder Dr. John B. Simpson assisted in the design of the first atherectomy devices used for removing plaque. Launched in March this year, the Pantheris device is the synthesis of 50 years of technological progress.
In what way is Pantheris groundbreaking? In order to understand, it needs to be compared with ordinary atherectomy devices. 
Atherectomy is a minimally invasive treatment for PAD in which a catheter-based device is used to remove plaque from a blood vessel. Lumivascular technology utilized in the Pantheris system allows physicians, for the first time ever, to see from inside the artery during a directional atherectomy procedure by using an imaging modality called optical coherence tomography, or OCT on a therapeutic catheter – like having a small camera on the tip of the device. 
This allows physicians to remove plaque more precisely than ever before with less risk of damage to the artery walls which can result in aggressive scarring that greatly increase the risk of restenosis or re-narrowing of the artery. In the past, physicians have had to rely solely on X-ray as well as touch and feel to guide their tools while they try to treat complicated arterial disease. With the Lumivascular approach, physicians can more accurately navigate their devices and treat PAD lesions, thanks to the OCT images they see from inside the artery.
Pantheris* has demonstrated clinical effectiveness and an ex- cellent safety profile. In the recently completed VISION study, 130 patients were treated with Pantheris and followed for a period of six months. The study achieved its primary safety and efficacy endpoints. More and more doctors are trained to use it, all over the world, every week. 
* Fitted with LEMO connectors
For patients affected by arterial diseases, the future seems much brighter.