CONNECTED #13 | HISTORY
2014: When LEMO connected to NORTHWIRE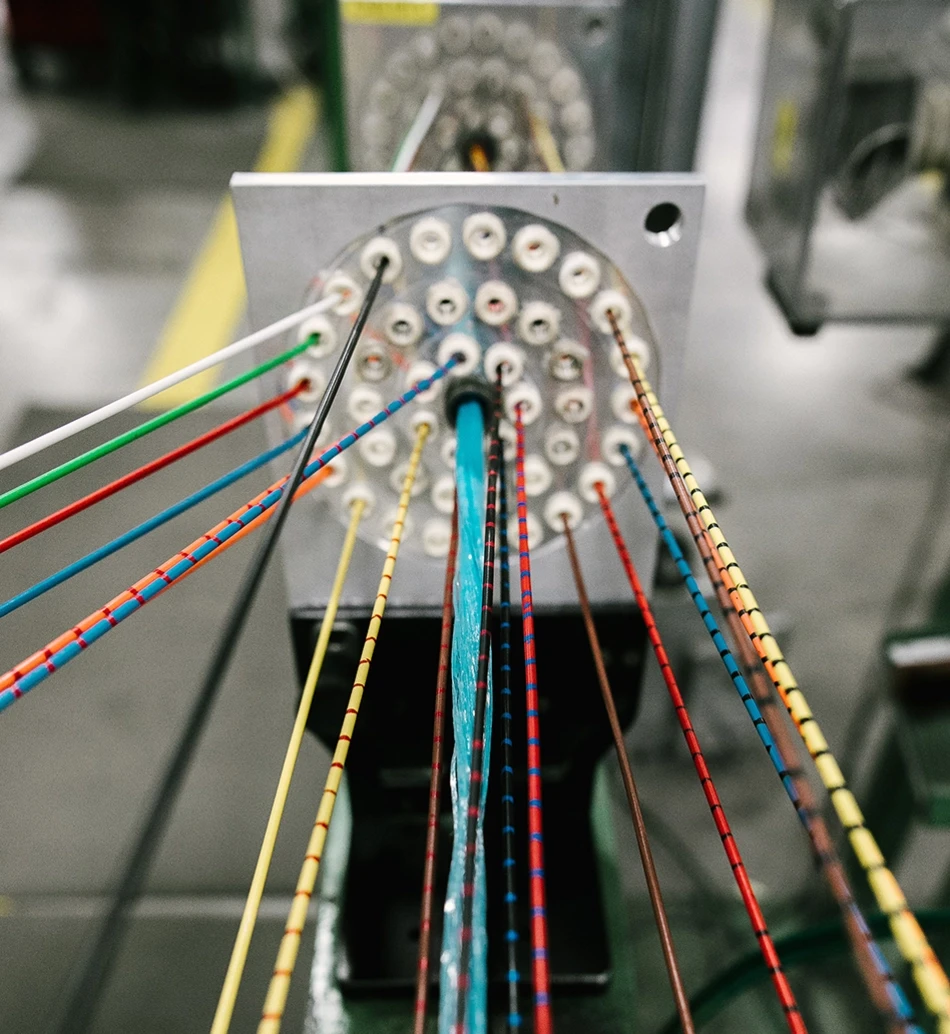 It's been just over 5 years since LEMO acquired US cable manufacturer NORTHWIRE. It was an important step "beyond connectors" for the Group and a new dimension for NORTHWIRE. It was also a natural marriage between two perfectly complementary family-owned companies.
Ormund Kravik founded NORTHWIRE in 1972 in Osceola, Wisconsin. His parents had chosen to emigrate to the beautiful northern territories of the USA, where both the landscapes and the climate reminded them of their native Norway. The name of the company and its logo (a compass) are a tribute to their beloved North.
During its first years, the family business created and produced low voltage cords for the US market. The mid-nineties brought the first big change. Then CEO Mark Kravik, pivotal in the company's growth and repositioning, decided to push NORTHWIRE towards higher value-added specialities, complex control cables. The right people were hired, and investments were made in new equipment and new buildings. The company moved and officially launched its transition in 1997.
Kevin Depratter is one of the people hired to successfully manage this major shift. With 22 years' experience in wires and cables, he started in 1995 as a manufacturing engineer. "NORTHWIRE established itself as a recognised brand in complex cables for the machine business, factory and process automation", says Depratter. Their customers come from the fields of industry, aerospace, defense and energy.
As of 2010, with growing specialisation and complexity, NORTHWIRE – still led by Mark Kravik - entered the medical market with power and data cables for the diagnostic industry. "We were steadily gaining presence in the medical field, but we were only at the start of a long journey."
NORTHWIRE was now at an important crossroads, it had to grow further. The third generation CEO Katina Kravik wanted a more global presence, which the company, established only in the USA (in Osceola and in Santa Teresa, New Mexico), had so far never succeeded in. An office had indeed been opened in Holland in 2007, but it didn't last long.
"NORTHWIRE didn't have the necessary means to succeed in international markets" explains Fabian Weber, VP of Innovation and Business Development. "Neither for developing the necessary local presence to really understand the specific needs of the customers, nor for spearheading R&D endeavours that would extend our product portfolio."
Revenue – stagnating for several years – confirmed the situation: if NORTHWIRE were to stay alone, it was bound to remain one of the many wire and cable manufacturers in North America.
The Swiss group has always been in search of high-end cables for its high-end connectors. For decades, it has been buying and assembling cables in order to provide customers with complete solutions. Acquiring a cable manufacturer was the natural evolution, another asset in controlling the value chain. Furthermore, LEMO and NORTHWIRE are focused on similar markets, including the medical field.
The alignment of the two family businesses was discussed and then approved. In 2014, Alexandre Pesci, grandson of LEMO's founder and Katina Kravik, granddaughter of NORTHWIRE's founder, signed the agreement. The US brand joined the Swiss group's three brands – LEMO, REDEL and COELVER.
Both sides started working on a smooth integration and on developing synergies.
Well-positioned in the high quality market, LEMO was keen to ensure that NORTHWIRE was truly aligned to this market leading position. "We did quality work, but not at LEMO's level" says Depratter. "They guided us to raise our quality system and to make quality the top virtue of our culture. We got to the next level."
Production equipment is being modernized to increase capacity and capability: over 5 million dollars have been invested in NORTHWIRE. Brand new extrusion lines have been installed. A fine wire gauge extrusion line, running since April 2019, makes it possible to produce finer cables for medical applications. Unsurprisingly, these new lines integrated quality management in production to save time and gain in productivity.
In parallel, NORTHWIRE's staff has grown from 200 in 2014 to currently 275. The subsidiary company is now managed by LEMO USA's GM, Farhad Kashani, with Joe Van Landschoot in the management team.