CONNECTED #14 | CHALLENGING THE BOUNDARIES OF THE POSSIBLE
The first step towards success: Boldness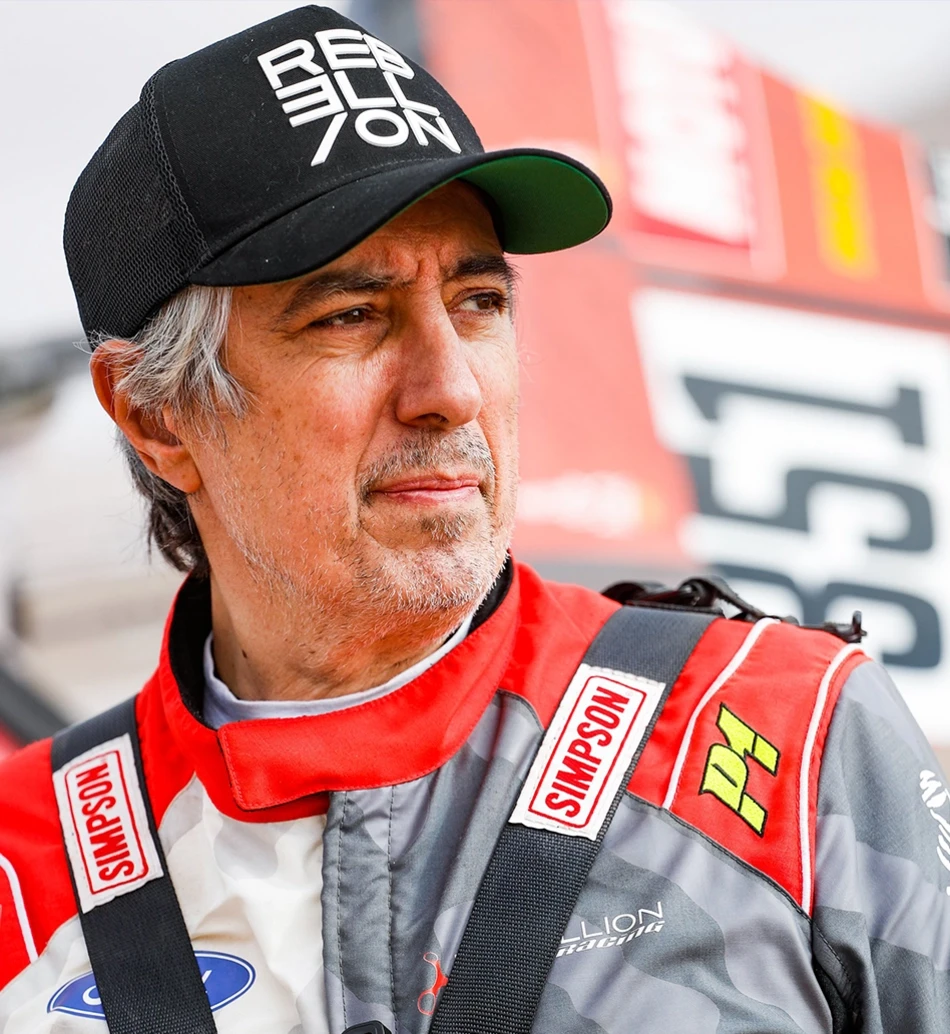 An interview with Alexandre Pesci at the heart of the Dakar Rally
It was back in January, just before the COVID-19 became a global crisis : the legendary Dakar Rally raced through the harsh desert lands of Saudi Arabia. Among the competitors, there was the LEMO Group's CEO, Alexandre Pesci. The story of a childhood dream come true, a breath of fresh air welcome in the current climate.
Alexandre Pesci, why did you wait until the age of 53 before taking part in such an extreme endurance race as the Dakar Rally ?
Alexandre Pesci : I've been passionate about cars, from as early as I can remember and from a very early age I dreamt of competing in the Dakar Rally, as it is the ultimate test in motorsport. I had promised myself that I'd participate before the age of 30, but I didn't. Then I turned 40, then 50. Now it was really the last chance – you'd better not be too old before tempting such a challenge – so, I embarked on the adventure.
What goals have you set yourself ?
To go there. To experience it. The Dakar Rally is the hardest of all endurance races – typically, one third of the cars do not cross the finish line. I hadn't really put any pressure on myself, I just wanted to try and finish the race. In this context, each successful leg was a personal victory.
You have accomplished your goal, by ranking 43rd in the car category (out of 83 participants and 58 arrivals) and 3rd Rookie…
The result is nothing extraordinary – I drove 22 hours longer than the winner Carlos Sainz, which is a lot ! But it is not bad at all for novices like myself and my co-driver Stephan Kühni. They say that a first Dakar does not usually go well. So, the other competitors were very surprised when we crossed the finish line. Especially when they realised that it was my very first car race. It's as if I had started mountaineering by climbing Mount Everest and succeeded (laughing).
Dakar is very intense : 11 legs in 12 days. How does a typical day go ?
We get up around 6 :30-7 a.m. The connecting stage starts an hour later : you have to drive your car to the departure of the " special stage ", a few kilometres away. Then it's the " special " (between 319 and 546km this year). Then another connecting stage on road – the longest one was 370km – to join the camp from where we leave the next day. Then shower, physical recovery, a meal, debriefing with the mechanics. Around 8 p.m. everyone gets together for the briefing about the next leg. We go to bed around 10:30 - 11:30 p.m. With earplugs, because there is noise all night – reconditioning the vehicles, late arrivals…
How exactly was your buggy reconditioned every night ? Romain Dumas told me that his truck contained just about all the parts to reassemble a car…
Yes, his crew did a tremendous job. As soon as we got back from a leg, one of the six mechanics would go off with the buggy to " listen " whether there is a problem. Then, they would rebuild it almost completely – even the smallest broken fragments of the car body were mended. Finally, they would go off once more to test that everything was perfect. All this work would keep them busy regularly until 4 a.m. Sometimes, upon waking up two hours later, I would see nobody : the crew and their trailer would be already gone to join the next stage. Getting out of our camping car, I would only find our buggy in front of me, refurbished and ready to leave.
What were the specials like in the Saudi deserts ?
There was sand, a lot of sand. Red, white and yellow sand… it was magnificent, and I love driving across the dunes, but sometimes we got really tired of it. By the way, Stephan my co-driver told me that in any case, he would not spend this year's summer holidays on a beach (laughter) ! There was also a lot of dust and stones – much less comfortable than sand. It is quite amazing the extreme level of constant shock a car can withstand rolling on stones: the buggy was shaking all over, we thought it would fall apart. We have also had some rather horrible passages on rocky terrain.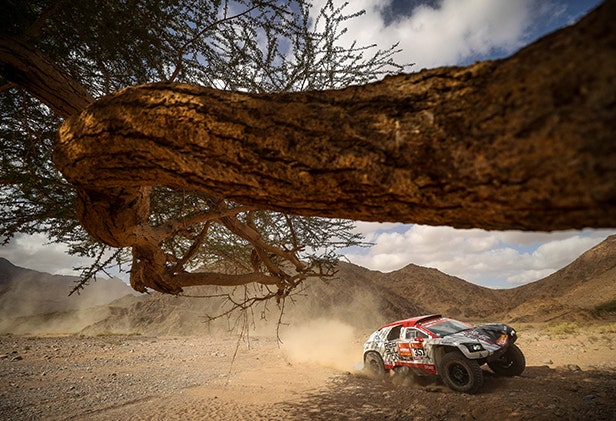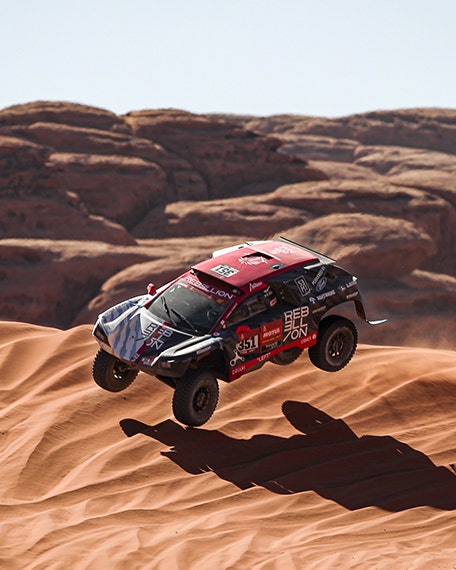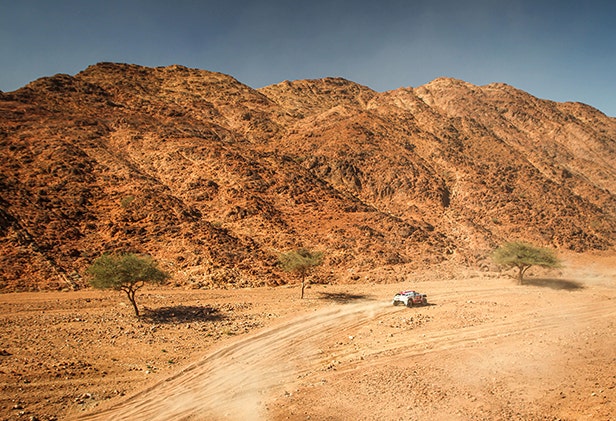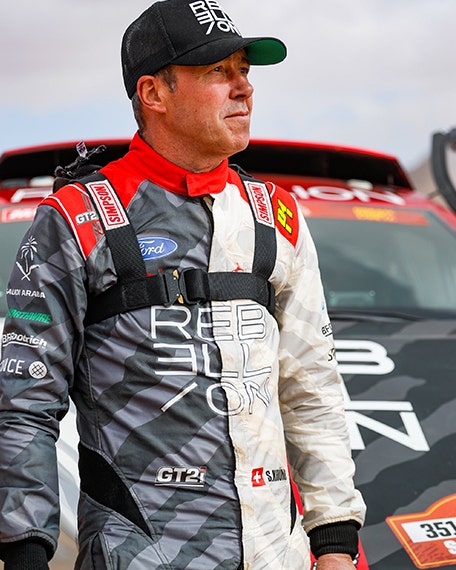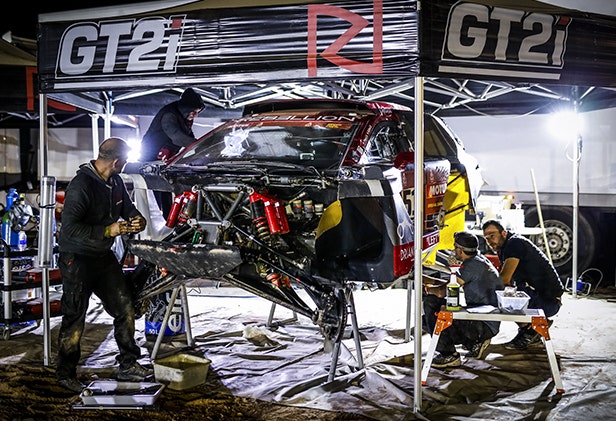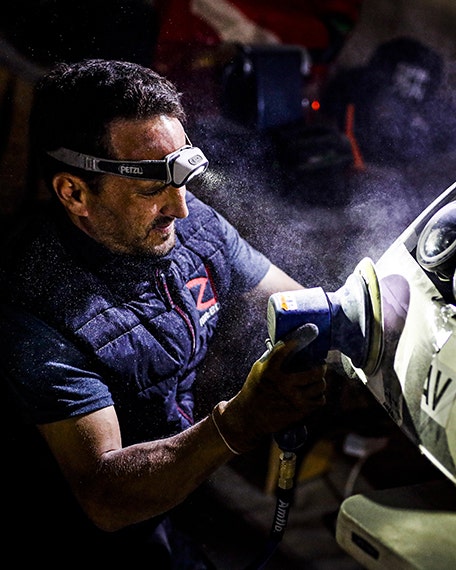 What part did navigation play ? Veteran Stéphane Peterhansel had warned that it would be particularly difficult and interesting this year…
Navigation is an integral part of a Dakar race. You need to search and find your way. You get the roadbook the evening before, sometimes even on the morning of departure, with only 15 minutes left for analysing before leaving. This is adventure.
No navigational instruments on bord ?
No smartphones, no nothing. The two GPS on board, supplied by the organiser, do not indicate your position on the map, only the signposts that you have to drive past within 50 metres to collect the points.
How precise is the roadbook ?
It is rather vague : it gives a direction and a distance, that's all. Even the best get lost sometimes – Al-Attiyah and Baumel have lost 14 minutes driving 7km in the wrong direction before realising that they had made a mistake. As for us, we lost our way once or twice and missed a few signposts, but we did quite well. Some competitors get lost for hours.
It is nothing like a carefully prepared rally, where the co-driver announces every bend and obstacle to the second !
Nothing at all. At the Dakar rally, we navigate only by sight. The roadbook does not help to know whether there are right angle bends ahead. It indicates major dangers, but the organisers don't necessarily have the same perception as you do. At times, important danger is announced ahead and you drive on without even taking notice of anything. Then, at other times, it says " subsidence to the left " when in fact, you discover that it is the edge of a cliff ! So, you have to stay extremely vigilant. You have to see the bends, obstacles, dangers for yourself. I think this is what makes the Dakar race so superb : navigating by sight pushes you to your limits.
It is rather physical. How can you hold on ?
Yes, it is very tiring. You drive relatively fast, you have to keep concentrating and you spend 8, 10 or even 12 hours a day in your car, which is an awful lot. You hold on, because you love it and you are supported by a solid team. Also, fuelled by energy bars and drinks prepared by our physiotherapist.
Are there breaks during the race ?
Only a 15-minute break during legs of more than 350km. It is neutralisation : you must stop and must not do anything on the car – not even repair. Just relax. A countdown shows when you are allowed to start again.
You have mentioned speed : how fast were you driving without any major obstacles ?
I'm a beginner and I wanted to limit risks, so not very fast ! On track, we would drive at around 120kmph, with peaks at 165kmph. Otherwise, between 90 and 100kmph. Across the dunes, it was more around 60-70kmph.
Is it difficult to drive among the dunes ?
It is fantastic, but also rather tricky. If you bump off a dune and you find yourself facing another one, you're sunk at the bottom of a bowl. Even if it's large, you have no way to gather speed to climb up again. It happened to us once. I had to back off meter by meter, until I got high enough to pass over the edge. So, you always have to look further ahead, towards the next dune. There are also much flatter dunes on which you can drive fast… however, they may lead to a sudden downhill of several dozens of meters! You have to be really careful.
In case you get stuck in the sand, can you get help ?
Competitors get on really well and they mutually and spontaneously help each other. Once we were blocked in a dune and tied a cord to the front of the buggy – soon enough, a truck stopped to pull us out.
The deserts of Saudi Arabia offer a spectacular natural scenery, have you actually enjoyed it ?
No, not during the race : I was much too focused on my wheels and, on the road, the dust stirred up by the other drivers hides everything. Fernando Alonso got into trouble once by following another driver when, hidden by the dust cloud, he didn't see a large stone and got his wheel torn off. Sometimes, I had to stop and wait until the dust cloud would dissipate – to realise that we had left the trail. I discovered some of the scenery we had driven through only in the evening on the campsite, while looking at the images of the race.
Short, targeted preparation
Being the CEO of an industrial group with a family doesn't leave you much free time.
How did you prepare your first Dakar Rally ? I had a few today driving courses, in order to test various types of terrain and to get used to a sequential gearbox. In the south of France and, to experience dunes, in Morocco and in Qatar. All in all, about ten days, which is very little, so I chose very good coaches : Nasser Al-Attiyah and Matthieu Baumel. Driving was a pleasure, physical training was much less so ! Six months' muscle strengthening (abdominals, neck, back) to better support the repeated shock in the car and cardiovascular training to improve my endurance. We had also exercised reading the roadbook, which is crucial to running the Dakar rally.
No mechanics ?
Not for me, since it's not the driver's job. It's Stephan Kühni, my co-driver, who had to do an important technical training, to be able to change parts such as the clutch. He was well prepared and made himself technical sheets. Whenever we had a problem, I simply followed his orders.
For the development of the car, you chose RD Limited, Romain Dumas' company. Why ?
I reviewed several quotes and Romain's was the best. He's an experienced driver - he ran three Dakar rallies, once finishing 9th. Also, his car manufacturing is serious, inventive, and economical. He gave me some good ideas – simplifying the car to a maximum, to avoid reliability problems, use tried and tested components, change the engine. I've seen him for years at endurance races and we get on well. Moreover, he has a whole technical team with him, excellent engineers who work for Indycar or BMW. Reliable people who have a thorough knowledge of their job.